Vladimir Petkovic says Lazio's Sergio Floccari handled ball before scoring against Atalanta
Lazio head coach Vladimir Petkovic admitted Sergio Floccari handled the ball before scoring against Atalanta.
Last Updated: 14/01/13 12:18pm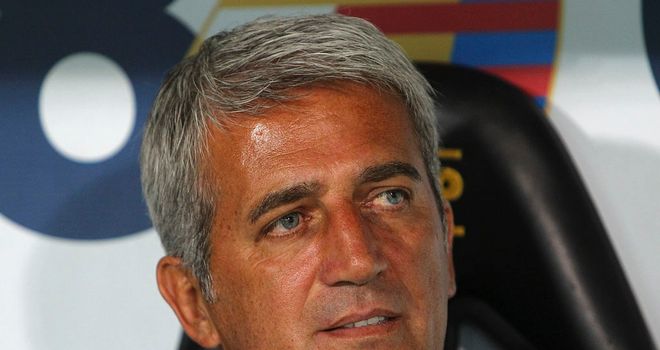 While the Bosnian stressed that his striker's actions were involuntary, he conceded the second-half goal gave Lazio a psychological advantage against the run of play before Davide Brivio condemned his own side to defeat with an unfortunate own-goal.
Amid the protests, Nerazzurri midfielder Carlos Carmona was quickly dismissed for picking up two yellow cards.
"We deserved the victory for what we did in the second half, not the first," Petkovic told La Repubblica. "Floccari's handball before the goal was involuntary but in the eye of the storm it can be difficult to avoid making mistakes like that. But you can't admit you think it's happened during the game."
The hard-earned win saw Lazio close to within three points of Serie A leaders Juventus, who were held to a 1-1 draw at Parma, but Petkovic believes his players must improve before they can consider themselves title contenders.
He added: "Lazio are improving technically, tactically, physically and mentally, because we are giving absolutely everything, but to aspire to more we need to be more consistent throughout games."
Floccari was not quite as eager to confess to handling in the six-yard box before slotting home, but the ex-Atalanta man gave his own version of events.
He said: "My hand was away from my body and I went for the ball with my knee. It went quite close to my hand but I don't know if I touched it, maybe I did. The goalline referee was two metres away.
"Why didn't I celebrate very much? It's nothing to do with the alleged handball. It's just that I spent two good years in Bergamo.
"What happened isn't really clear but it's not like I scored with my hand. That's how it goes."
Atalanta boss Stefano Colantuono took a clearer position on the incident, though.
He told La Repubblica: "The handball changed the game because it upset my players. So then came a slew of bookings and the sending off.
"But the game was already over after Lazio's first goal. I'm not going to say too much about the goalline referees, only that they should help the referee out and they didn't help this time."