Ibrahimovic warning to Inter
Inter Milan will suffer if they let Samuel Eto'o leave, according to AC Milan striker Zlatan Ibrahimovic.
Last Updated: 15/08/11 8:09pm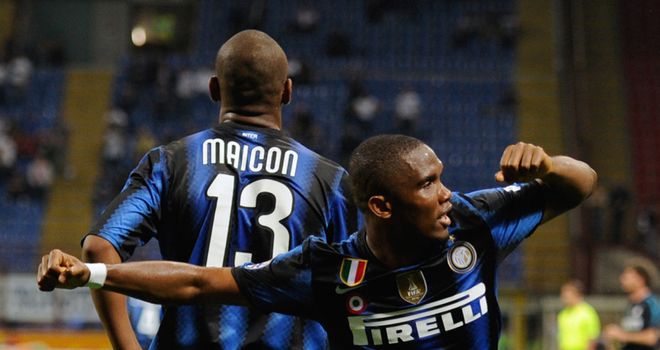 Inter Milan will suffer if they let Cameroon forward Samuel Eto'o leave, according to AC Milan striker Zlatan Ibrahimovic.
Eto'o looks set for a possible big-money switch to Russia to join Anzhi Makhachkala, although the 30-year-old says he could also move to England.
And having let Ibrahimovic himself leave two years ago, and Mario Balotelli last year, the Sweden international thinks Inter would be ill-advised to lose another talented forward.
"If Inter lose Eto'o, it's normal that they'll lose quality, there isn't another player like Eto'o, he's proved he's one of the best in the world," Ibrahimovic told Italian media.
But he would not know how he would react if offered the same sums of money that have been linked with Eto'o, as he added: "I'm happy to stay at Milan and so I'd say that I wouldn't accept.
"However, it's one thing to talk, you have to see. It's not easy, I haven't been offered anything and I hope it stays that way.
Fantastic
"When I came to Milan I knew I was getting a great opportunity, it put the smile back on my face, I'm happy and I feel good.
"But then again, you never know in football, one day Milan might not want me anymore."
Ibrahimovic has also played down fears surrounding an ankle injury suffered at the weekend, insisting the problem is "not too serious".
He had to come off during his side's 2-2 friendly draw with former club Malmo on Sunday, two weeks before Milan begin the defence of their Serie A title.
But Ibrahimovic said: "At one point I twisted my ankle but I really wanted to stay on the pitch as the crowd was fantastic. I couldn't go on though after an hour.
"The ankle really hurts at the moment, but the doctor has told me that it's not too serious."