AC Milan coach Massimiliano Allegri has no fear that Pep Guardiola is waiting in the wings
Massimiliano Allegri has no fear that Pep Guardiola is waiting in the wings to take his job at AC Milan.
Last Updated: 07/11/12 12:09pm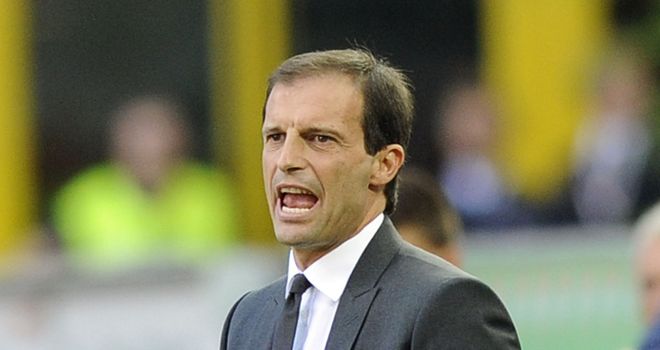 The Rossoneri head coach proved his worth by securing a valuable Champions League point on Tuesday night.
Alexandre Pato's late goal was enough for Milan to salvage a 1-1 home draw with Malaga following Eliseu's classy opener, with the Spaniards sealing qualification to the last 16 as Allegri's men clung on to second place in Group C.
Prior to the game, club vice-resident Adriano Galliani had been forced to deny rumours that he had held talks with the brother of ex-Barcelona coach Guardiola in a Milan restaurant on Tuesday afternoon but, intriguingly, Pere Guardiola was in attendance at the San Siro.
Allegri is convinced he will not be replaced as manager, though, as he starts to deliver improved performances from his team both in Serie A and on the continent.
He told Gazzetta.it: "The presence of Guardiola's entourage in the crowd didn't worry me, there have been countless names and rumours circulating.
"The story has bored me a bit and it's up to the club to deal with these situations. Milan has different problems - recovering in the league and qualifying from the Champions League.
"It's up to me to achieve these objectives and I will do my best for as long as I'm on this bench."
The Rossoneri certainly enjoyed the better chances of a one-sided first half, Bojan Krkic, Stephan El Shaarawy and Urby Emanuelson all going close before Eliseu struck on the break.
"Champions League games are all difficult, we needed to maintain a high tempo against Malaga and that's a tough thing to do when you're playing every three days," Allegri added.
"We created the best chances in the half, even though we were playing with less intensity.
"In the second half, though, we stepped it up. The lads played a great game, even if we made a few mistakes, but I can't criticise the team.
"I met president (Silvio) Berlusconi in the changing rooms, and he told me he was happy with the performance."
Pato's glancing header 17 minutes from time proved vital to Milan's hopes of qualification, and acted as a personal fillip to a striker who had not scored for his club since last December.
Allegri added: "He had a good game, and he improved in the second half. That goal did a lot to boost his confidence, and the team's.
"Physically, we're in good shape and I think Milan ought to be able to climb the league table and battle through our last two Champions League games.
"If we had won today we would have taken an important step towards qualification but we'll be right in the mix until the last game against Zenit St Petersburg."