Adriano Galliani hints Massimiliano Allegri will keep his job at AC Milan.
Adriano Galliani has hinted Massimiliano Allegri will stay in charge of AC Milan until at least the end of the season.
Last Updated: 27/11/12 1:17pm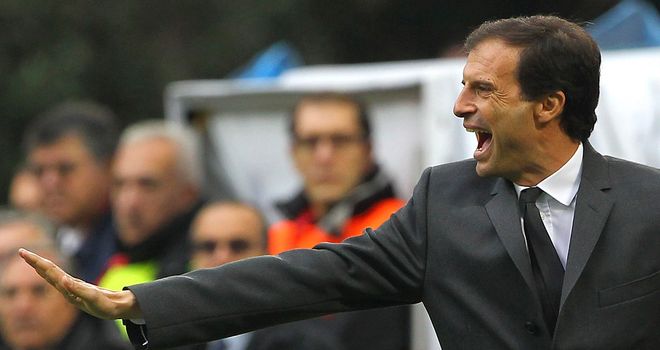 The Rossoneri boss has navigated an uncertain start to the campaign thus far, with a run of six losses in 12 games adding fuel to ongoing speculation that ex-Barcelona manager Pep Guardiola is being lined up as his replacement.
But the tide has turned at the San Siro in the last seven days. A 1-0 victory over reigning champions Juventus followed the confirmation of Milan's progression to the Champions League knockout stages.
Galliani used a popular Italian idiom to clarify Allegri's current position, telling Radio Monte Carlo: "Could Galliani eat his Christmas cake here? Yes, and the Easter dove too!
"I've always thought that he had the situation in hand. He's had two great years, winning the Scudetto, then second place, the Supercoppa and a Champions League quarter-final place.
"I have always been against changing coaches in the middle of a season. I'm committed to Allegri. He has the situation under control and I will defend him with all the energy I have."
Galliani also reassured fans that Alexandre Pato has not requested a transfer, despite the Brazilian striker's recent admission that he is unsettled in Milan.
Stephan El Shaarawy has emerged as the Rossoneri's principal goalscorer this season, notching 12 goals in all competitions since Antonio Cassano and Zlatan Ibrahimovic left the club for Inter Milan and Paris Saint-Germain respectively.
"Pato has never asked to leave," Galliani added. "Pato has asked - like all players ask - to play.
"Cassano, on the other hand, continually sent text messages to the coach and I, begging to be sold. He was constantly hammering away at us.
"There's no similarity between the two, Cassano wanted to leave with all his might.
"If Ibra had stayed then El Shaarawy would not have achieved what he has achieved this season. Who knows? There's no way of knowing but that's what I think."
With Allegri's position cleared up, Galliani found time to confirm his own status on the Milan board.
He added: "First of all I have to thank president (Silvio) Berlusconi, who has allowed me to live on caviar and champagne for 26 years.
"Perhaps there is no vintage champagne left but I still live very well.
"No, I will not leave Milan. Absolutely not. I have a bond with president Berlusconi that I hope is unbreakable."