Serie A: AC Milan boss Massimiliano Allegri gets vote of confidence
AC Milan vice-president Adriano Galliani has confirmed that Massimiliano Allegri will remain in charge for next season.
By Nadia Carminati
Last Updated: 11/02/13 5:58pm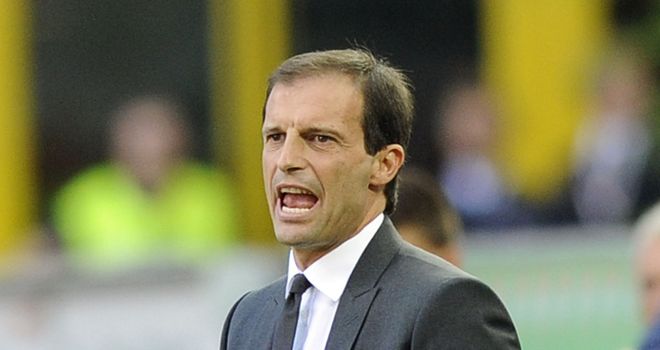 Speculation about Allegri's immediate future has subsided following a run of just one defeat in 12 games, but reports had still suggested he could be replaced in the summer.
Club president Silvio Berlusconi had also been quoted over the weekend as saying that Allegri did not 'understand anything', but Galliani says that has all been cleared up.
"The president called Allegri and I to explain the sense of the things he said," said Galliani.
"Allegri has a deal, and I can say it for the umpteenth time, that he will be Milan coach next season also."
Allegri is confident that Milan can push on and qualify for next season's UEFA Champions League.
The Rossoneri have started to find form after a dismal start to the season, but they are currently three points adrift of third-placed Lazio in fifth after a 1-1 draw at Cagliari on Sunday.
Mario Balotelli continued his fine start to life with Milan by netting the equaliser from the penalty spot, and Allegri feels time is on their side to climb higher.
"I think it's a good point against a really good Cagliari," he told Sky Italia.
"We must continue on our positive line of results. It's clear that when you are chasing others it's better to win, but the draw is good too, because we haven't lost.
"Clearly with a win we would have been just one point from Lazio, but there is time, there will be direct matches. We must continue doing as we are doing now."
Allegri added: "With a win here we wouldn't have solved the problems of a place in Champions League for next season.
"I have targets in my mind. When I achieve them, others will know. Now my aim is to help this team growing, and the guys are doing it a lot."