Serie A: AC Milan duo Giampaolo Pazzini and Philippe Mexes suffer injuries
Injuries to Giampaolo Pazzini and Philippe Mexes marred AC Milan's 2-0 win at Genoa in Serie A on Friday night.
Last Updated: 09/03/13 10:30am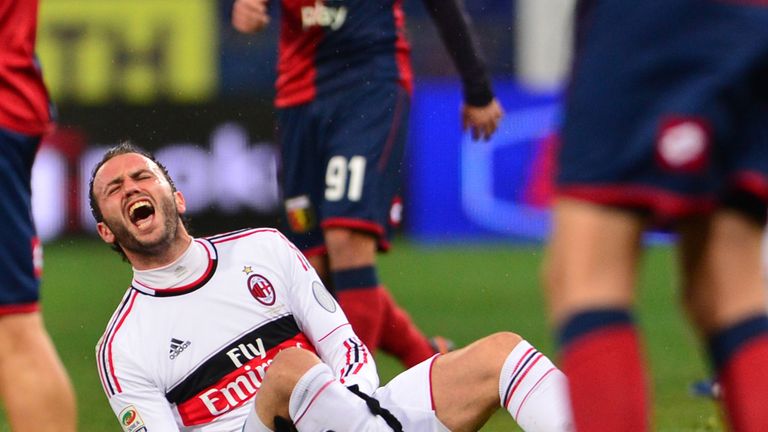 Milan warmed up for the second leg of their Champions League showdown with Barcelona by winning at the Stadio Luigi Ferraris but coach Massimiliano Allegri was left with fitness concerns after playing the final 25 minutes with 10 men and watching two players go off with injuries.
Pazzini was already hobbling when he scored the 22nd-minute opener, and was soon replaced by Mario Balotelli who went on to double the lead on the hour mark.
Five minutes later, Kevin Constant saw red to leave his side short-handed, while fellow defender Mexes had been replaced at half-time due to a niggle.
"We were up against a team that caused us problems," Allegri said. "It was a competitive game and we fought well. For the sending off we had to burn more energy than we should have.
"It's a good result. We have a good league position now and we hope to keep that until the end of the campaign. We could have avoided the red card but these things happen."
Allegri added that he could not yet be sure if Pazzini and Mexes would be available for Tuesday night's trip to the Nou Camp, but warned his team they will need to be at their best regardless of their 2-0 advantage from the home leg.
"On Tuesday, we're up against the best team in the world," he said. "We're ahead, but it's still the last 16. If we play as well as we did at the San Siro and if we're a bit lucky we'll get through."
Defender Ignazio Abate said the players understand their job ahead of a huge night for the club.
"We're calm going into the game against Barcelona," he said. "They're favourites, no one was expecting the two goal lead but we can't let it get to our heads."