AC Milan head coach Massimiliano Allegri insists he won't be quitting the club
AC Milan head coach Massimiliano Allegri has said that he won't be quitting the club.
Last Updated: 29/08/13 11:08am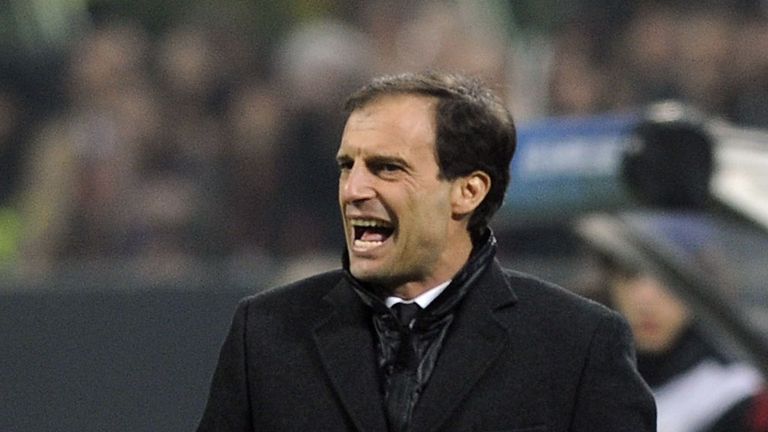 The Rossoneri completed a 4-1 aggregate win over PSV Eindhoven as two goals from Kevin-Prince Boateng and one from Mario Balotelli saw the Dutch team beaten 3-0 at San Siro.
That ensured Champions League football for an 11th year in 12 for Milan but Allegri, who oversaw a 2-1 opening-day loss to Hellas Verona in Serie A at the weekend, hinted he was considering stepping down in the face of continuing speculation about his position.
Quoted in the Gazzetta dello Sport on Wednesday night, he said: "Tonight was the final result of last season and our qualification for the next round is deserved.
"Did I feel there was any tension in the atmosphere? It's been like that for the last two years - maybe tomorrow I will resign. I need to sleep on it.
"Maybe I'll just head out on my boat off the coast of Livorno and come back to watch the occasional game.
"It's been two years that people have been talking about 'the next Milan coach'. There's too much speculation from the outside, you need to have respect for the work people are doing.
"I'm happy with the work the boys have put in, but I'm very angry. I congratulate the lads, the club and I thank the fans, but I won't be speaking about the game."
Allegri then retreated into a 30-minute meeting with Milan vice-president Adriano Galliani and director Barbara Berlusconi before returning to clarify his comments.
"As usual, someone has failed to take it as a joke," he continued. "A lot of people like writing things and so for once I wanted to amuse myself.
"If when I quit coaching I start to say certain things, to pontificate on what other coaches should be doing then you'll be calling me a good guy and coming to visit me.
"Too many people take things too seriously and don't understand jokes."
PSV coach Philipp Cocu, meanwhile, did concentrate on the football and bemoaned his side's failure to get a better result in last week's home leg at the Philips Stadion, which ended 1-1.
He told his club's official website: "We didn't get the best result at home and the difference in this kind of top-level match is in the details.
"We had the first chance of the match and also had a good chance to make it 1-1, if we'd done that then it could have been a different match.
"We tried to play the same way we do at home but it's almost impossible to press for 90 minutes. We have more trouble creating chances when we're away from home."