The Gaffer: Henk ten Cate
What are the secrets to football management? Henk ten Cate is next in our 'The Gaffer' series and the former Ajax manager and ex-Barcelona and Chelsea assistant discusses his coaching philosophies...
By Peter Fraser - Follow me on Twitter @SkySportsPeteF
Last Updated: 18/02/14 6:53pm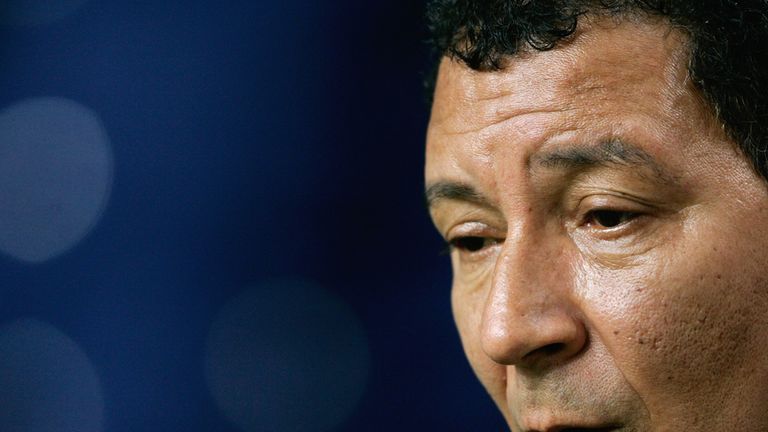 After a relatively modest playing career as a winger was ended through injury in his early thirties, former Go Ahead Eagles, Edmonton Drillers, Telstar and Heracles man Henk ten Cate turned his attention to coaching.
The Amsterdam-born Dutchman gained his necessary qualifications in the early 1990s while taking in placements with mighty hometown club Ajax and abroad at Italian giants AC Milan. At that time, Fabio Capello had just taken charge of Milan only one year after they had won the European Cup under the legendary Arrigo Sacchi. Future England boss Capello would himself not disappoint with Milan and went on to conquer Europe in 1994.
Having gained his coaching badges, Ten Cate proceeded to manage at clubs around the world from his native Holland to Germany, Hungary, Greece - where he guided Panathinaikos to the last 16 of the UEFA Champions League - Dubai, Qatar and China before most recently working on a caretaker basis at the end of last season back with Dutch side Sparta Rotterdam.
But it was working as an assistant at Barcelona in the mid-2000s where Ten Cate achieved his greatest success. He was credited with developing the stylish tactical system which turned Frank Rijkaard's Barcelona into double La Liga winners and 2006 Champions League kings along with getting the best out of Ronaldinho.
That subsequently earned him the top job as manager back at Ajax and, although his short spell in charge was not a great success, Chelsea then came calling. Ten Cate was recruited to work alongside Steve Clarke on Avram Grant's coaching staff, where current Liverpool boss Brendan Rodgers was then reserve team manager. That particular era at Stamford Bridge may not be held in the highest critical acclaim but they did reach the 2008 UEFA Champions League final and Ten Cate played a key role.
Here, the now-59-year-old talks Sky Sports through his thoughts on coaching and management, the differences between Dutch and Italian footballing philosophies, and explains what it was like to learn from the likes of Capello.
Did you always want to go into coaching as a manager or assistant boss?
"As a kid when I was growing up, I wanted to be a football player. But after I broke my leg and I learned I could not come back, because of the injury, I started to miss football. I asked at my former club about coaching in the youth teams and that is how it all started. I did not know whether I was going to like it but it was a good substitute for not playing anymore. It was nice to see the kids improving. At the first two teams at which I coached, we won the juvenile championships."
Who were your managerial role models in terms of their coaching principles?
"I did not really have any role models but, growing up in Holland, I was attracted by the Dutch philosophy of football. One of the biggest coaches was of course Johan Cruyff. At that time, Arrigo Sacchi and Fabio Capello were also doing very well with AC Milan in Italy. When I did my coaching diploma, the Dutch stage was in Amsterdam with Ajax and the foreign stage was with Milan when Capello was manager just after he had taken over from Sacchi."
What did you learn from working with Capello when on your placement at Milan during your coaching diploma?
"From his point of view, the players are professional so have to take care of themselves. They have to take care of their bodies and their fitness. The tactical skills is the role of the manager. Of course, Capello already had a fantastic team [inherited from Sacchi]. But, especially in tactical discipline, he brought that into the team by doing a lot of exercises in that way. It was impressive."
When you were still in Holland, before you went to Italy, what were the key elements of the Dutch footballing philosophy which you admired?
"It is always thinking of possession and trying to entertain the public. Playing offensive and skillful football is something we learned from being kids. Being a small country, there is also always the need to find tactics which can surprise opponents. In Holland, the young players are trained very well. They start their tactical development when they are pretty young. In training, we do a lot of positioning, possession games and individual technique."
Subsequently, how did Italian football then differ from the Dutch? What did you admire about Italy's way of thinking in the eras of Sacchi and Capello's Milan?
"The tactical discipline and the way they maintained a system. Contrary to the Dutch, the defence was also very important. You need the players to achieve this. As a coach, you can have a philosophy but if you do not have the players to deal with this, it is no use. You first have to look at the quality of players. Italian football is always very defensive. Milan played with a half-press on the pitch. They dropped back to the halfway line with a lot of players behind the ball when they did not have possession. But then, when the ball was played to the wings, the whole team would move in a diagonal direction to go forward and press. This is how they regained the ball and the quick turnover of possession was amazing. Dutch football would press much higher up the pitch."
Is that philosophy to entertain something which is possible to coach or does it need to be embedded in the football culture of a nation?
"It can be coached, of course, this is not a problem. But it takes time. There are a lot of training disciplines in which it can be ensured. Football is all about possession and keeping the ball. Having the ball a lot as a kid means you are enjoying yourself. We always look for training drills where the kids will have a lot of the ball, so we train in small groups. We also give them their own ball to take home with them to practice."
Is this something you think is possible in England given the frequent debate about the supposed lack of youth talent?
"I really cannot understand why there should be less talent in England. I cannot believe that. Everything is to do with football education. I am not sure about this, of course, but most probably they have stuck too long with a certain way of educating the young football players and did not look abroad."
In your time at Chelsea, were you involved in trying to make changes at youth level?
"I was not really involved in youth football. But every Wednesday I trained a group of youth players where we worked on positioning. I think [former director of fooball] Frank Arnesen brought a lot of the Dutch philosophy into the Chelsea football school. I think Brendan Rodgers is a good example of this. I was at Chelsea at the same time as Brendan and spoke with him a lot."
What is it you like about Brendan Rodgers' coaching style now he is at Liverpool?
"He has consistency in his beliefs in the way he is coaching and the way he is training. This is the right way and he sticks to this even if the results might not be good. Right now, we can all see what he started last year is progressing a lot. Liverpool are again a force to be reckoned with."
If you could give one piece of advice to someone starting in professional coaching or management, what would you say?
"To find an owner who believes in you, has confidence and gives you the time to establish something. If you look at how many managers are sacked, because of one or two bad results, I think it is key to have the trust of the club owner."