Serie A: AC Milan striker Mario Balotelli plays down bad boy reputation
AC Milan striker Mario Balotelli has played down his bad boy reputation but says that he misses English football fans.
By Simone Bargellini & Andres Garavaglia
Last Updated: 12/02/14 6:35pm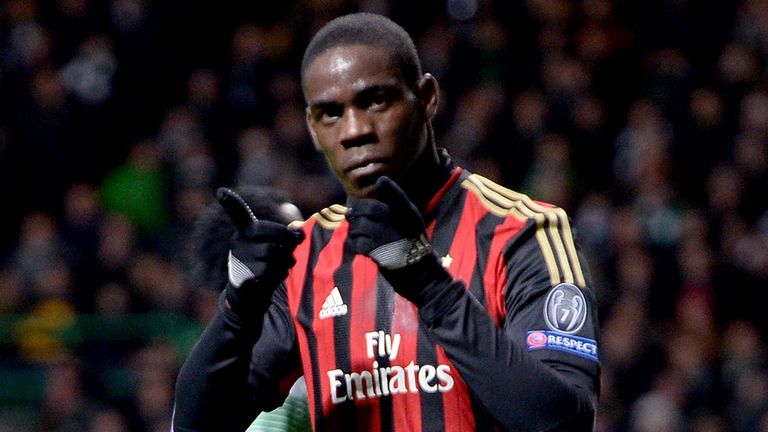 The 23-year-old swapped the Etihad Stadium for the San Siro in January 2013 after a headline-grabbing two-and-a-half-year spell in England.
Balotelli netted 20 Premier League goals during his time at City but it was often his off-field antics which hogged the headlines.
The Italy international has found the net 13 times in all competitions so far this season and he believes that his reputation is undeserved.
"Me, a bad boy? I would like to be more bad," he said in an interview with FourFourTwo.
"I miss England's fans, while I do not miss the food, or the weather, or the manner of driving a car.
"But fans of City, yes I miss them. But the AC Milan fans are fantastic too. Most of my memories about Manchester are happy because I enjoyed it there.
"It was not a shock for me to move to England and there is not a big difference between the two clubs."
Meanwhile, Argentina legend Diego Maradona has admitted that he would love to work with Balotelli at some point as he sees similarities with himself.
"It would be my pleasure to have the chance to be the coach of Balotelli," he told Telam.
"That would give me great pleasure. I don't know why everyone goes against him and makes his life more difficult. I would like to have a conversation with Mario face-to-face, both alone in a room.
"I would tell him about my experiences. He would know what to do with them.
"Mario has to be judged for what he does on the pitch, not about what he does in private. Nobody can teach him what to do when playing football. Leave him in peace."