Clarence Seedorf faces challenge to lift spirits of AC Milan
Clarence Seedorf faces a major challenge to lift the spirits of AC Milan following Tuesday's demolition in Madrid.
Last Updated: 12/03/14 11:18am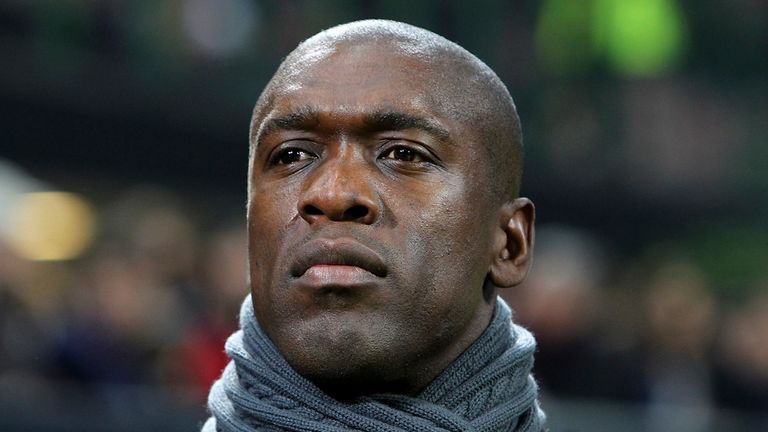 The Italians were knocked out of the Champions League in the last 16 after losing 4-1 against Atletico Madrid at the Vicente Calderon, having previously been defeated 1-0 in the first leg at the San Siro last month.
The seven-time European champions had gone into the encounter in Spain looking to spark their season into life, but were not up to the task on the night as Diego Costa's brace, plus further goals from Raul Garcia and Diego Costa sealed a comfortable victory for Atletico, with Kaka's first-half strike merely a consolation for Milan.
"After Atletico's second goal my team struggled psychologically and failed to react, as we often do," Seedorf said to Gazzetta dello Sport. "The second goal switched off the light and took away all the energy from my team.
"We had played well in the first leg and we started this game well only we could not be consistent for the whole game.
"In the second half, the whole team no longer produced the right level of grit and determination to keep fighting.
"We sat back too much and in general it was not a positive performance.
"We are disappointed as the Champions League was an important aim for us and economically for the club.
"I've said more than once that the fitness levels I found here were not optimal.
"It's normal to struggle when you have are behind in fitness since the start of the season."
Milan have endured a dismal campaign and sacked coach Massimiliano Allegri back in January and appointed former player Seedorf as his replacement .
The Dutchman, who had no prior coaching experience, retired from football to accept the Milan job and does not regret his decision.
"I am absolutely convinced I made the right choice," he said. "I wore these colours for 10 years, the club president (Silvio Berlusconi) gave me so much and Milan are trying to rebuild what has been lost.
"This challenge pleased me and it was not ideal to take over midway through the season, but we are preparing for the future and trying to end the season as best we can."
Milan are 10th in the standings, 20 points behind third-place Napoli, who hold the last Champions League qualifying spot.
They trail city rivals Inter, who hold the last Europa League qualifying spot, by nine points.
"There are 11 games to go in the (Serie A) season and we have some very specific aims, which we believe we can get," Seedorf said. "The squad must feel a realistic sense of what it can achieve.
"We can't throw away the good work we have done."