Sampdoria boss Ciro Ferrara vows to fight on and turn the club's fortunes around
Under-fire Sampdoria manager Ciro Ferrara has promised to stay and do his best to turn the club's fortunes around.
Last Updated: 11/11/12 3:45pm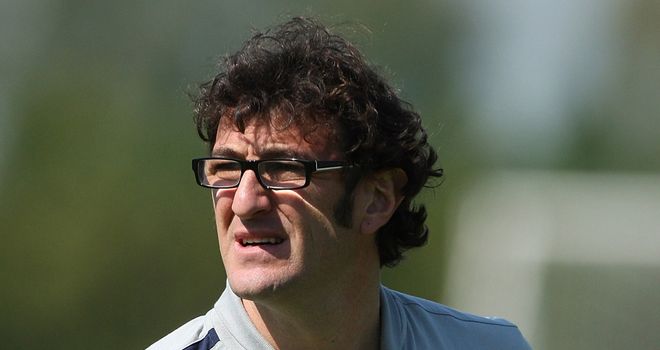 Hapless Samp slumped to a seventh consecutive Serie A defeat on Sunday, courtesy of Palermo and their teenage striker Paulo Dybala, who scored twice in a 2-0 win.
Ferrara was given a vote of confidence before the game, but with his newly-promoted side sliding into the relegation zone, senior management may be forced to make some tough decisions.
The ex-Juventus boss told Gazzetta.it: "This situation is my responsibility, I have a good group of lads at my disposition and it's up to me to find the key to success.
"Will I quit? No, that's not the right thing to do and it's not in my character. I have to resolve the problems, not abandon the team.
"I have to get into the guys' heads, I don't think I'm making myself understood. I realise they are doing everything they can, but the results are just not coming.
"I am here to tell you that the responsibility is mine, not theirs, and fear is stopping them from playing well. I must find a solution."
Palermo moved out of the bottom three thanks to only their second victory of the season, but head coach Gian Piero Gasperini knows there is still a long way to go.
"I'm not sure if that marks the end of the crisis because this is a very difficult championship," he told Gazzetta.it.
"We have played a clutch of good games, not including the Roma match, and we have just lacked the results."
Argentinian striker Dybala, 18, opened his Palermo account after joining the club this summer.
Gasperini added: "He is very talented young man and he will do well. I'm very happy for him, we have a very enthusiastic player in the changing room right now."