Palermo coach Giuseppe Sannino says his players could make history this season
Palermo's players can make history if they survive in Serie A, according to head coach Giuseppe Sannino.
Last Updated: 22/04/13 3:10pm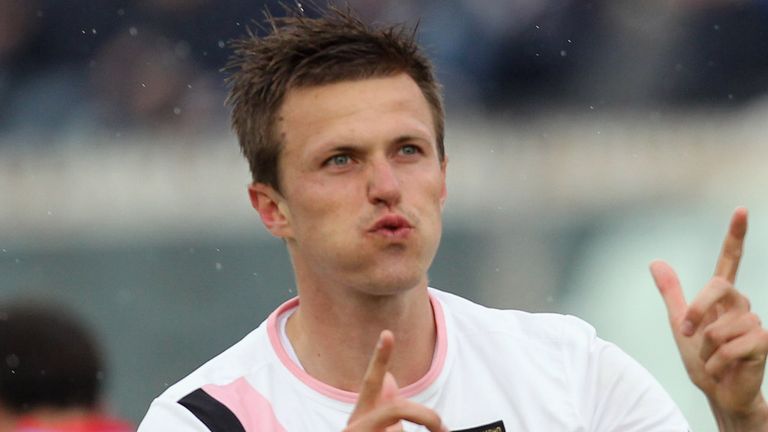 The latest of late goals from midfielder Josip Ilicic forced a 1-1 draw at Catania to keep the Rosanero just one point behind 17th-placed Siena with five games remaining.
Catania looked to have taken all three points from the Sicilian derby through Pablo Barrientos' lofted opener but Slovenian midfielder Ilicic arrived to hook the ball home with the last kick of the game.
Sannino told La Repubblica: "From week to week we are striving to write new chapters in our history. Today's entry was that goal in the very last second.
"The draw keeps us afloat. Now we have to keep working hard to see if we can write an indelible page in the history of Palermo.
"I have tried hard to instil certain types of values in my players. That includes fostering motivation and a desire to do something extraordinary. Tactics and technique are less important at this time."
Palermo's destiny is out of their hands but Sannino feels that, as long as his side keep their four-game unbeaten run going, the club will get what it deserves.
"Who am I more worried about between Genoa and Siena?" he added. "I just hope Palermo don't make any mistakes.
"We know there is room for three sides in the relegation zone and the cards with the letter 'B' on them held up by Catania fans reminded us that, as things stand, that's where we are.
"We will see what happens at the end."
Ilicic's equaliser over four minutes into stoppage time sparked an on-pitch brawl with Catania goalkeeper Mariano Andujar seeing red for his involvement.
More pressing for coach Rolando Maran, however, were the two dropped points that denied the Elefanti the chance to make history.
He said: "We saw a deserved victory disappear. Their equaliser arrived from a really daring move that happened while we were stressing about our league position and keeping the fans happy.
"Today we equalled our record points haul (48). There is anger, though, because we deserved more.
"The fight at the end? I didn't see much but I know there was a lot of anger in our camp. My anger was more concentrated on the fact we conceded a goal in that way."