Joaquin Sanchez optimistic on Malaga's chances of beating Borussia Dortmund
Joaquin Sanchez remains optimistic about Malaga's chances of progressing to the last four of the Champions League.
Last Updated: 04/04/13 11:40am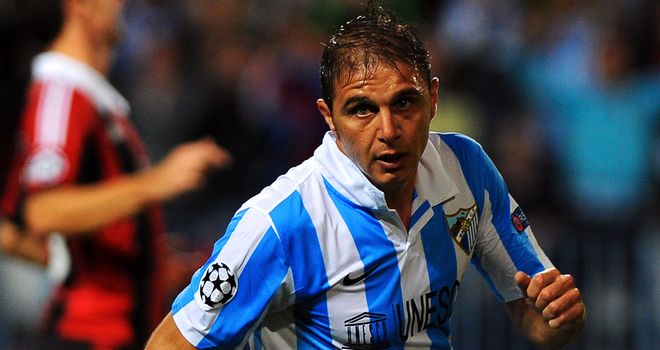 The Spanish outfit, playing in the competition for the first time in their history, would have been hoping for some sort of advantage to take to Germany for the return meeting but in the end had to settle for a goalless draw at La Romareda on Wednesday night.
It might have been a lot worse for Manuel Pellegrini's men though, with Dortmund spurning a number of good chances to take a significant lead home with them, and Joaquin believes the result was no bad thing for his side.
The former Spain winger said in AS: "We played a serious game and we have the same possibility as them of getting through to the semi-finals.
"Borussia know how to play football and they are going to make us suffer, but this is a positive result.
"If we manage to score in Dortmund we can make the tie complicated for them.
"We are in the quarter-finals of the Champions League and the level gets higher all the time. This is a positive result for us."
Malaga coach Manuel Pellegrini also felt a goalless draw at home was far from a disaster.
The Chilean, who led unfancied Villarreal to the Champions League semi-finals in 2006, said: "If we can score in the second leg, then a draw will secure us a win.
"Beginning a two-match tie at home always increases tension, and the need to focus on the attack and score.
However we didn't concede any goals, meaning Borussia now have that problem. The result is absolutely wide open.
"In the return leg we'll hopefully be able to create enough space in order to score and get through to the semi-finals."