Champions League: Malaga president Abdullah Bin Nasser Al Thani vents fury
President Abdullah Bin Nasser Al Thani has accused UEFA of being "corrupt" after Malaga's defeat at Borussia Dortmund.
Last Updated: 10/04/13 2:40pm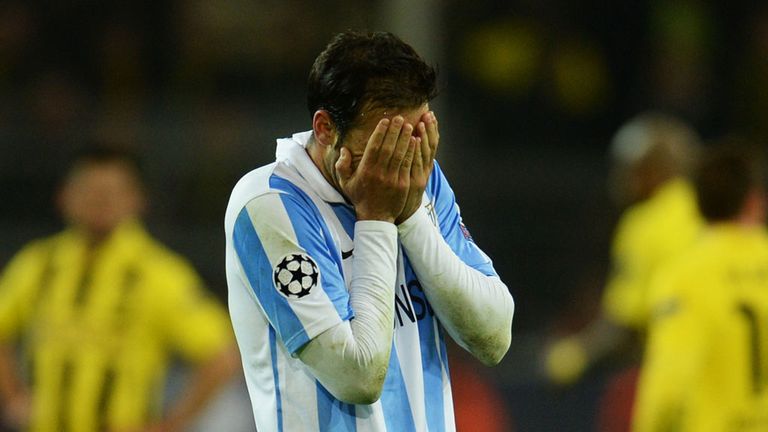 The Spanish team appeared to have sealed their place in the semi-finals as they led Borussia Dortmund 2-1 with seconds remaining at the Westfalenstadion, but two goals in stoppage time saw the Germans secure a 3-2 win to go through.
Malaga, playing in the competition for the first time, were fuming with some of the decisions made by Scottish referee Craig Thomson and his team, and announced on Wednesday they would be making a formal complaint to UEFA about the officiating.
The Primera Division outfit were particularly upset with Felipe Santana's 93rd-minute winner which he scored from an offside position.
Al Thani, meanwhile, launched a furious Twitter outburst immediately after the match, claiming his club had been the victims of "racism", and he continued today.
"Yes, we were targeted from the beginning of the season by corrupt UEFA and based on racism," he wrote on his personal account, @ANAALThani.
In December, Malaga accused UEFA of unfair and unjust treatment after they were handed a one-season ban from European competition - to be imposed if the club qualify for the Champions League or Europa League during any of the next four seasons - due to outstanding debts.
UEFA general secretary Gianni Infantino said on Wednesday afternoon the comments would now be looked at by the governing body.
He said: "It will now be analysed by our disciplinary inspectors, they will act if they have to act depending on what has been said.
"I can understand when you lose a match in the 93rd minute the emotions come up and maybe you say things that you don't really think and you really don't want to say."
Al Thani, who also posted pictures on Twitter of the offside decisions that had gone against his side as Dortmund scored their match-winning goal, was not the only person bitterly upset by Malaga's defeat.
Veteran winger Joaquin Sanchez, whose 25th-minute strike from the edge of the area had put Malaga ahead, also hit out at UEFA and their president Michel Platini, telling Spanish radio station Cadena SER: "We suspect Platini and all of them there. Because we are Malaga and not Real Madrid, it's easier to do this with us.
"We're very hurt because we didn't deserve to go out in this way.
"We saw the footage of the goals after the game. Something like this shouldn't happen at this stage of the game, but of course, we are Malaga..."
Coach Manuel Pellegrini said after seeing his team's fairytale Champions League debut campaign end: "There was no refereeing in the last seven minutes.
"Our players were being elbowed and pushed all over the place. Two of their players should have been given a red card and there was a double offside for their third goal.
"It was extremely difficult to regain possession under these conditions. We're all extremely bitter at the outcome."