Walter Mazzarri refusing to discuss Napoli's Scudetto chances
Napoli coach Walter Mazzarri is not getting carried away by thoughts of the Scudetto after the win at Cagliari.
Last Updated: 27/11/12 11:34am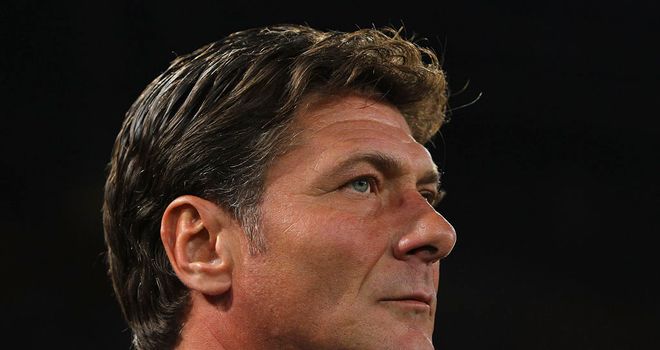 A 1-0 victory at Cagliari, courtesy of Marek Hamsik's second-half strike, saw Napoli hold onto second place thanks to Inter Milan's subsequent defeat at Parma.
Mazzarri told Gazzetta.it: "We really deserved this victory and Napoli are going through a fine period.
"It was a difficult game. We played well in the first half and just lacked something in the final third.
"The Scudetto? We'll take each day as it comes. Today we saw just how difficult this league is and we will only know where we stand at the very end.
"Considering how strong Cagliari are, this has been one of the most impressive results for us. It was a great game with the ball kept on the deck throughout.
"(Eduardo) Vargas came on and played really well. He deserved a goal and just needed a bit more luck."
Match-winning midfielder Hamsik added: "It was a very difficult game and Cagliari have been very strong at home.
"It was a hard-earned victory and that gives us the strength to continue.
"We missed (Edinson) Cavani. We played without a true centre-forward because Lorenzo Insigne is an inside forward really.
"But we did what the coach asked of us and put our hearts into the game, so thank goodness we brought the victory home.
"It was a very difficult game so getting the win is that little extra bit special. We are really happy as Cagliari is a tough place to come. They are three very precious points."
Cagliari boss Ivo Pulga found the defeat difficult to digest.
"If any team should have won that game then it should have been Cagliari," he told Gazzetta.it.
"We lost based on one incident, when we had been constantly attacking and embarrassing Napoli.
"We had five or six meaty chances to score, hitting the post twice. They had to defend for long stretches with tight man marking.
"What else can I say? I have to congratulate the players but I'm sorry for the fans. All I can say is well done to everybody."