Zdenek Zeman has no intention of leaving his role as Roma head coach
Zdenek Zeman has no intention of relinquishing his role as Roma's head coach.
Last Updated: 31/01/13 4:51pm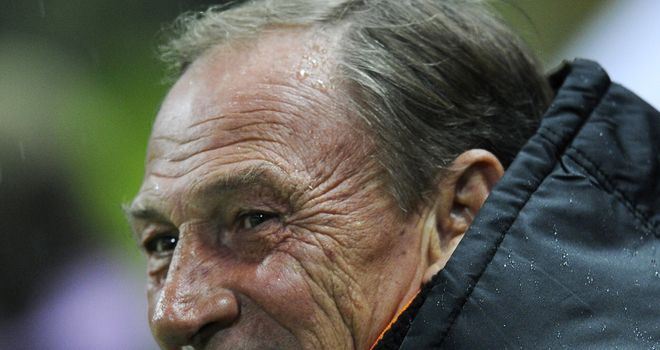 Sunday's 3-3 draw at Bologna marked a fourth game without a win and the Giallorossi have now slipped out of the race for Europe and sit eighth in the Serie A table.
Club director Walter Sabatini quickly voiced his frustration, admitting Zeman's position was among a number of elements under review.
But the Czech tactician emerged from a midweek boardroom meeting with both his job and a renewed determination to succeed.
He told La Repubblica: "The club thought I might be stepping down. But I am happy to continue with Roma.
"I want to stay at Rome for another five years, but I know I have to prove I deserve to stay by getting results.
"I've not been placed under any conditions, I've got the freedom to work and the club allows me to make my own choices.
"I have asked the club to give me their maximum co-operation and help.
"I never think the worst, the team's not a bad one but I'm still hoping to see a good performance."
Cagliari, meanwhile, are out for revenge after Roma were awarded a 3-0 victory without a ball being kicked in anger during September's ill-fated reverse fixture.
Rossoblu president Massimo Cellino forced the authorities to step in when he refused to host Roma behind closed doors at the unfinished Stadio Is Arenas.
Cellino continues to cry foul about the decision but current head coach Ivo Pulga, who has replaced Massimo Ficcadenti on the bench since that game, is not interested in revenge.
His priority remains guiding Cagliari away from the lower reaches of the table, and the Sardinians are on track having navigated three games without defeat.
"There was a different coach here at the time so all that concerns me is that this will be an important game in our league campaign," Pulga told La Repubblica.
"I'm expecting another battle. Roma have tightened up and they're a team that deserve to be higher up in the league.
"They have a great coach, good youngsters and a lot of quality. It will be tough for us."