Serie A: Cagliari have reached an agreement to return to their home stadium
Cagliari have reached an agreement to end their exile from Sardinia and return to their former Stadio Sant'Elia base.
Last Updated: 24/08/13 7:12pm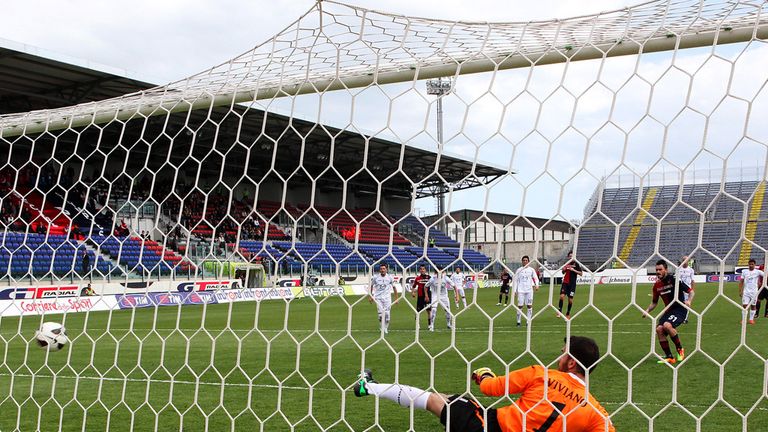 A consistent failure to satisfy local authorities over safety standards at the newly-built Stadio Is Arenas forced Cagliari to play the remaining 'home' games of the 2012-13 season more than 1,000 kilometres away in Trieste.
The north-east border town's Stadio Nereo Rocco will Sunday night's meeting with Atalanta but Cagliari have now been given a date of September 22 to return to the Sant'Elia - the club's home between 1970 and 2012.
A statement published on cagliaricalcio.net read: "Cagliari Calcio and the municipality of Cagliari express their satisfaction at signing an agreement at the City Hall in Via Roma.
"This is the beginning of a new journey - thanks to the commitment of all stakeholders - that finally allows the team to return home."
On the pitch Cagliari were able to secure a 11th-placed finish last season but the dispute over the Is Arenas, which consisted of several hastily-erected stands around a pitch in Quartu Sant'Elena, frequently threatened to derail the campaign and financial future of the club.
Roma were awarded a walkover 3-0 victory when Cagliari president Massimo Cellino urged fans to attend a designated behind-closed-doors game against the capital club last September.
In March the Florida-based businessman was incarcerated on charges of fraud and embezzlement in connection with the construction of Is Arenas. He denies the allegations, but remained under house arrest until May.