Andrea Stramaccioni plays down clash with Inter Milan striker Antonio Cassano
Inter Milan boss Andrea Stramaccioni has played down a clash with striker Antonio Cassano.
Last Updated: 02/03/13 12:56pm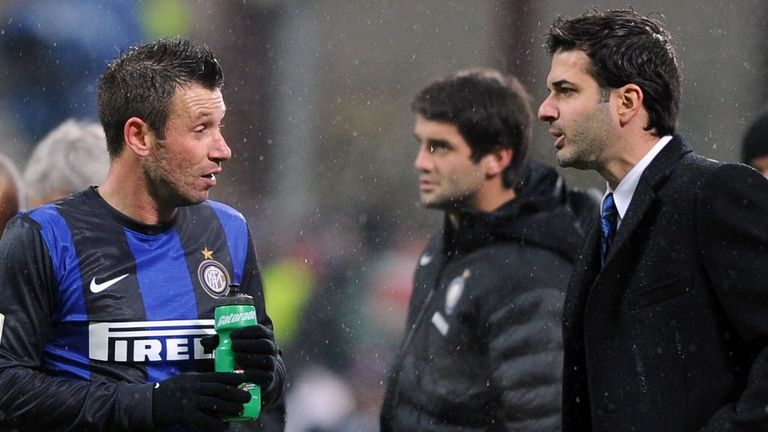 Italian media reported on Saturday morning that the two men had to be separated during a dressing-room brawl, but Stramaccioni played it down by insisting only words were exchanged and that similar incidents happen regularly throughout Serie A.
"There was no physical contact, it was just a discussion," Stramaccioni said. "It annoys me that it was reported outside the training ground, as these things should stay behind closed doors.
"It was a situation that can happen in any Serie A locker room. Who knows how many times similar things happened without leaking to the papers.
"Leaving Cassano out was my decision. It happened in the locker room and we shouldn't make a big deal of it. Whoever leaked this story outside clearly does not want what's best for Inter. The locker room is sacred."
Stramaccioni also insisted that the need to rotate his forwards was a factor in leaving Cassano out of his squad.
Inter lost Diego Milito for the rest of the season with a cruciate ligament injury last month, while Tommaso Rocchi is ineligible for the last-16 Europa League clash with Tottenham Hotspur on Thursday.
Stramaccioni added: "It's a shame Tommaso Rocchi isn't on the UEFA list, but nobody expected Diego Milito's injury.
"Cassano will be called up for the Europa League game with Tottenham next week. This is my decision and he is not being punished, nor frozen out. Fredy Guarin and Ricky Alvarez are crucial to cover the gaps at the moment."