Serie A: Tommaso Ghirardi resigns as Parma president and puts club up for sale
Tommaso Ghirardi has handed in his resignation as Parma president and put the Serie A club up for sale.
Last Updated: 19/06/14 11:05am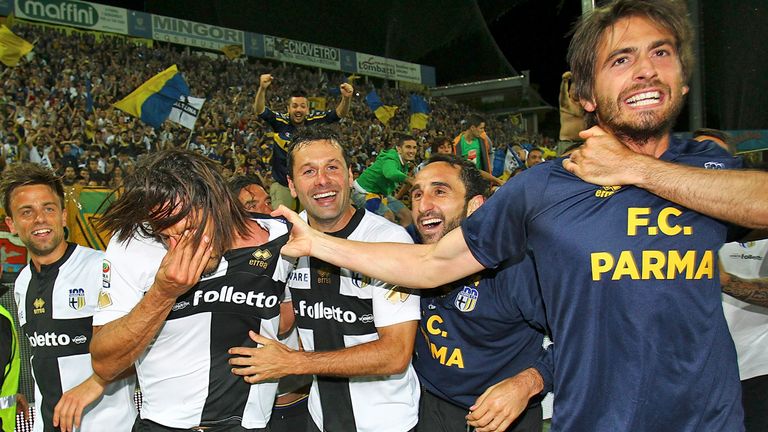 The Parma supremo announced both moves in a press conference on Friday after the Gialloblu were denied a UEFA license to play in next season's Europa League due to financial irregularities.
Parma finished sixth in Serie A to earn the last qualifying spot for the Europa League.
"We are good people who run a good house," Ghirardi said. "But they have managed to push me away from the game.
"I'm done with football. I'm resigning as Parma president and as of July 1, a new story will begin.
"The 100 per cent shares of Parma are now for sale."
The Italian Football Federation (FIGC) twice rejected Parma's application due to a dispute over income tax on their contracted players that have played on loan at other clubs this season.
Their appeal to the country's Olympic Committee's High Court of Justice was rejected on Thursday.
"No one said anything to me regarding a problem until April 30," Ghirardi said. "But I am convinced that we have paid, that we have fulfilled our requirements.
"I will not name names, but I was advised on what to do by members of the FIGC.
"This is the truth. I spoke with the League and the Federation, who gave me directions on what to do.
"And that has led to the failure to give us a UEFA licence.
"My staff have done everything by the rules.
"Only a fool would think that this was a cunning move from us to save 300,000 euros, after spending 13million euros (on players) and now losing 8million euros (from not playing in Europe).
"The High Court declared that this was an unfair punishment regarding the FIGC's sentence but they weren't able to overturn the decision.
"This is absurd."
Ghirardi, who entered the football scene when he acquired Serie D side Carpenedolo 11 years ago, bought financially-hit Parma in 2007.
"I leave as a winner," the 39-year-old said. "I came from the fourth division to lead a team to qualify for the UEFA Cup.
"When we came here there was nothing and we built something important."
Torino are expected to take Parma's spot in next season's Europa League.