Tymoshchuk wants Euro glory
Bayern Munich midfielder Anatoliy Tymoshchuk has pledged his future to the club.
Last Updated: 24/07/11 10:10pm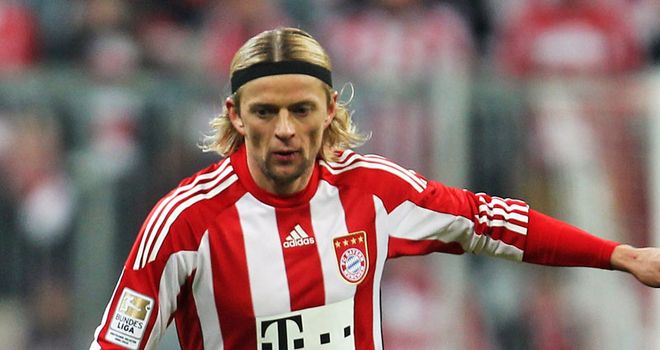 Bayern Munich midfielder Anatoliy Tymoshchuk has pledged his future to the club and insists he wants to win the UEFA Champions League.
The 32-year-old has been the subject of lucrative bids from clubs in Russia and across Europe but is adamant he wants to remain in Germany.
Tymoshchuk won the Uefa Cup and Super Cup while he played for Zenit St Petersburg but now wants to complete his European trophy set with Bayern.
Last season the Ukraine international became more of an integral part of the starting line-up having initially struggled to make his mark at the club.
Confidence
"I feel really good and when you are relied upon it gives you confidence," he told Sportsdaily.ru.
"Last season I played lots of games, I was involved in 27 matches in the Bundesliga and for 24 of those games I was the member of the starting line-up.
"I don't think it's selfish, but everyone wants to play continuously and I'm not an exception.
"Personally I would like to win the Champions League next year, especially because the final will be in Munich."
Expires
The former Zenit captain's contract expires at the end of next season, but he is not worried by the fact he has just one more year to run on his current deal.
"I've been in situations like this many times before, it is not that important that this is my last year here. I have good offers from numerous clubs," he added.
"I have offers from Russia and also from some good European clubs. But at the moment, I'm satisfied with everything at Bayern.
"It's a very organized club and is one of the best clubs in Europe, so I'd be happy to stay in Munich."