Arrests as supporters clash ahead of Borussia Dortmund-Schalke derby
German police say they will prosecute supporters who clashed before Borussia Dortmund's derby with Schalke.
Last Updated: 20/10/12 9:57pm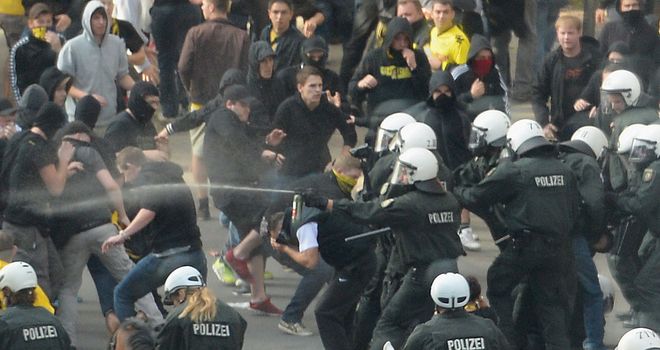 Officers made in the region of 200 arrests after fans of both sides fought with each other and the police in the hours before Schalke's 2-1 win at the home of their rivals.
Riot police used water cannon and tear gas to keep apart supporters who ignored calls for calm in the days leading up to the game.
Police on horses were "attacked by Dortmund hooligans with cobble stones", according to a Dortmund police statement, while "a group of around 100 masked Schalke fans went on the rampage, lighting flares on their way towards the stadium".
Dortmund police chief director Dieter Keil said: "This has nothing to do with football supporters and we don't want to see them in Dortmund."
Schalke supporters displayed illicit banners during the game, but police kept a lid on trouble in the immediate aftermath.