Bayern Munich's Bastian Schweinsteiger accuses Nurnberg of unsporting behaviour
Bayern Munich midfielder Bastian Schweinsteiger has accused Nurnberg of unsporting behaviour.
Last Updated: 18/11/12 10:52am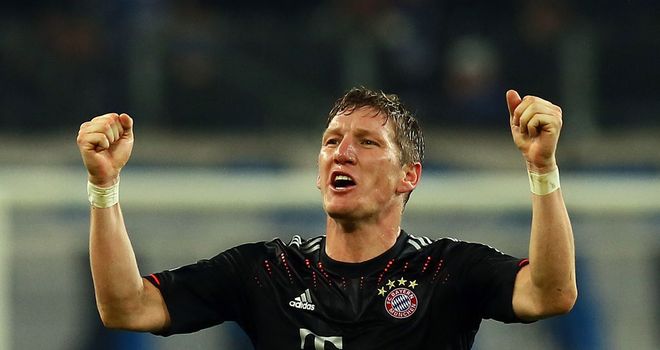 It was only the second time all season Bayern had failed to win in the Bundesliga, coming a fortnight after their 2-1 defeat at home to Bayer Leverkusen, but Schweinsteiger was far from impressed with the treatment dished out by their opponents.
"Nurnberg can't do it any other way, especially not in the derby," he said.
"Personally, I don't know what you can call it. They always tried to influence the referee and were provoking all the time with time wasting, staying down on the floor, with small things which had an influence.
"We also committed fouls, but they always went for the body.
"That's not something I take kindly to. I have had enough injuries in the past and it wasn't easy for the referee today. It wasn't any fun today."
Nurnberg goalkeeper Raphael Schafer reacted to Schweinsteiger's criticism by saying Bayern only have themselves to blame for failing to win at the Frankenstadion.
"It's not as if they were playing against Real Madrid or Barcelona - if you can't find a way to win it, then it's easy to just stand there afterwards and say we were provocative," he told Sky television.
"A squad full of millionaires should be able to find a way to win a game like this, especially with an extra man."
Bayern coach Jupp Heynckes was more gracious in his summary of the game, saying that "you can't win every game."
"We can live with the draw," he added. "After we led 1-0, we failed to get a second or a third and then the equaliser came at a bad time for us psychologically."