No Franck Ribery red card dispute from Bayern Munich boss Jupp Heynckes
Bayern Munich coach Jupp Heynckes had no complaints over Franck Ribery's red card in Tuesday night's DFB-Pokal win.
Last Updated: 19/12/12 8:58am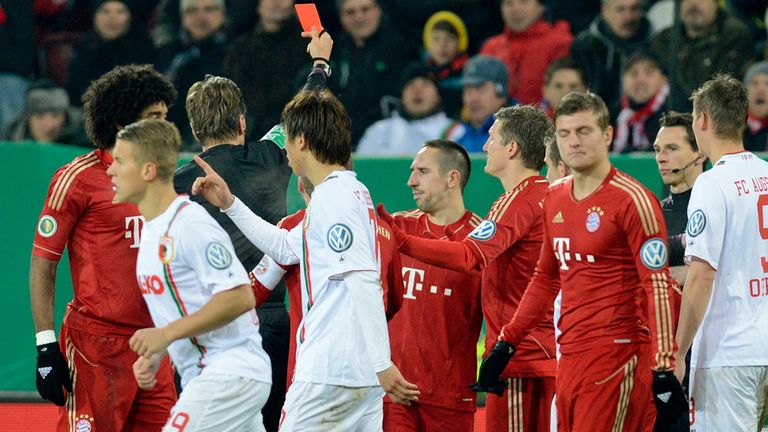 Frenchman Ribery set up the opening goal in a 2-0 win but was dismissed in the 47th minute after appearing to strike Koo Ja-cheol.
"The red card was the result of provocation, but there's no disputing the decision," Heynckes said on fcbayern.de.
"FC Bayern players have to brush that kind of thing off."
Bayern, who hold a commanding nine-point lead in the Bundesliga heading into the winter break, booked their place in the fourth round of the DFB-Pokal thanks to goals in each half from Mario Gomez and Xherdan Shaqiri.
Augsburg were unable to take advantage of Ribery's dismissal and the Bayern coach was delighted with the resilience shown after going down to 10 men.
However, he admitted the performance was far from perfect.
"We knew it would be extremely tough," he said.
"It's the last match of the year. The players have already moved on mentally.
"We didn't play well in the first half. In particular, our switching from defence to attack malfunctioned. We've had a lot of matches so far this season, and you have to accept you'll have an off-day.
"Overall I'm very satisfied, because we've been outstanding for long periods in the first half of the season. It can't go better than this."