Bundesliga: Eintracht Frankfurt manager Armin Veh has European ambitions
Eintracht Frankfurt coach Armin Veh admits his gaze is slowly turning to the race for a place in Europe next season.
Last Updated: 03/02/13 12:47pm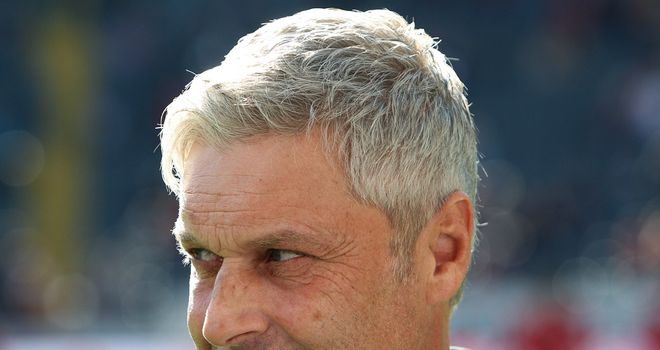 That victory gave fourth-placed Frankfurt a six-point cushion over Mainz in fifth, boosting their hopes of playing Champions League football next term.
Fears of a similar capitulation to 2011, when they were relegated despite being in a challenging position at the turn of the year, have also been dispelled and Veh reckons his side's focus is changing.
"It's getting a bit harder for me now to say our aim is to avoid relegation," he told Sky television.
"We have a poster in the dressing room which had 40 points on it and we kept changing it, and now there are only four points left until we reach 40 and we are delighted about that."
Srdjan Lakic was Frankfurt's hero with two goals on his debut, and Veh acknowledged it was a gamble to play him less than 48 hours after he joined the club.
"Of course it was a risk because he had only trained with us a few times," he said. "But a debut like this is sensational.
"It's a dream for him. He has not played for 18 months, then he comes to a new club and scores two straight away."
Lakic himself hopes to turn the page with Frankfurt after several tormented years with Wolfsburg.
He was signed by the Wolves before the arrival of Felix Magath, who did not have any plans for him, while a serious knee injury set him back further during a loan spell with Hoffenheim.
"I just want to look forwards," he said. "The past is no longer important to me.
"I am just pleased and I want to thank the team, the coach and the club that things worked out and now we move on."