Bundesliga: Former Greuther Furth coach Mike Buskens shocked by dismissal
Former Greuther Furth coach Mike Buskens has admitted his dismissal last week came as a shock.
Last Updated: 25/02/13 12:47pm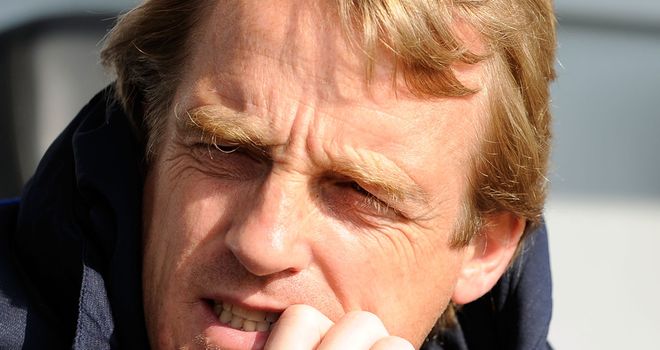 Buskens was fired with the club rooted to the foot of the Bundesliga, but he told Sport1 television that he was nevertheless surprised to be given the sack on Wednesday night.
"I am still trying to come to terms with it," he said after seeing his former team take a point against Bayer Leverkusen on Sunday.
"It was definitely surprising for me, but I just had to accept it."
Buskens will still go down in the history books as the first man to lead the Bavarian club into the top flight, but that was little solace given the way his adventure on the Furth bench ended.
"It's a true shame because I've been through so much in these years with Furth and experienced some incredible, unforgettable moments," he said.
"I just think back to my first game against Kaiserslautern when the club were in 15th place and we were able to escape.
"Then fourth place and just missing out on promotion in what had been the club's best season ever, and then the cherry on top was the promotion and the DFB-Pokal semi-final against Borussia Dortmund.
"The celebrations and the people I got to know - I'm grateful for everything and I will cherish it all, I just wish it had not ended this way."
With just two wins all season, and without a victory at home, Buskens could nevertheless accept that the situation was precarious.
However, he felt he should still have been given more time to put things right and try to save the club from an immediate relegation back to the second division.
"Of course I believed that I could turn things around, and we were often close to doing so," he said.
"We weren't inferior to that many teams, but we just did not take our chances. Unfortunately, we just lacked efficiency, but things take a course of their own sometimes in football and that was the case in Furth."