Franz Beckenbauer says success of German clubs bodes well for World Cup
Franz Beckenbauer says the success of Bayern Munich and Borussia Dortmund bodes well for Germany in the 2014 World Cup.
Last Updated: 25/05/13 5:38pm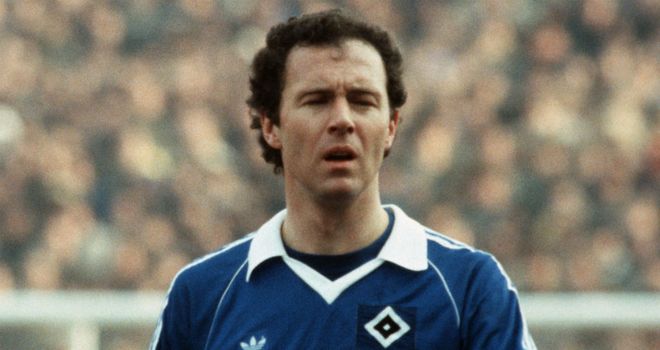 Beckenbauer, the president of Bayern Munich, says England and other countries can learn from Germany's drive to promote its youth players into its top club sides.
The all-German Champions League final at Wembley is an outcome of the decision in 2000 to oblige all professional clubs to have academies, and a major programme to appoint youth coaches, according to the man who won the World Cup as a player and manager with West Germany.
Beckenbauer told a news conference in London: "Germany is on its way. Teams like Bayern Munich and Borussia Dortmund and the national team are on their way, maybe next year on their way to Brazil to win the World Cup. They have a good chance.
"That means that German football is really on the top."
Since 2000, the number of German players in the Bundesliga has risen to a level of 60%, with benefits felt in the national team, even though there are no restrictions on the number of foreign players.
"There are no gentleman's agreements left in Germany - it's an open field like in England," added Beckenbauer.
"Everybody gets the chance to sign a contract, it could be 11 foreigners.
"I think what helps us in the last 10-15 years is our academies and youngsters, [Bastian] Schweinsteiger, [Mario] Gotze, [Marco] Reus, all these young players, [Manuel] Neuer, they all came from the academies."
Beckenbauer, speaking as a global ambassador for Gazprom's Football For Friendship international children's forum, said France had led the way in 1990.
He added: "When I was at Olympique Marseille for a year in 1990, after the World Cup, France billed that all professional teams have to have an academy. All these players, like Zinedine Zidane and Christophe Dugarry, eight years later when they won the World Cup they had come from academies."
Beckenbauer admits, however, that all countries' fortunes change over time.
He said: "Football is like life, up and downs. In the '70s the German teams, with Bayern Munich we won the Champions League three times, six players from Bayern Munich won the European Championship and won the World Cup in 1974.
"And then late in the '70s the decade was finished, then the Italians came, Inter Milan and Juventus. Then the English came: Manchester United, Liverpool, Chelsea and Arsenal.
"Then the Spanish came, their national team won the Euros two times; Barcelona, Real Madrid, for four or five years the best in the world. But now the Germans are coming back. It's up and down, it's a cycle. I hope the period for Germany will be a long cycle!"
Beckenbauer insisted the German rules on club ownership were also "healthier" - super-rich prospective owners can only take over a maximum 49% of the club and not the majority of the shares.
"Fifty-one per cent has to stay in the club so you can share as a partner but not share the majority," he said.
"If you give your potential out of your hands, say to a sponsor, and he says tomorrow 'No I don't want to be the sponsor any more', what are you going to do? It's healthier to have our system."