Pep Guardiola's move to Bayern Munich to boost Bundesliga, says Gunter Netzer
Pep Guardiola's arrival at Bayern Munich will benefit the whole Bundesliga, says former West Germany star Gunter Netzer.
Last Updated: 14/06/13 12:50pm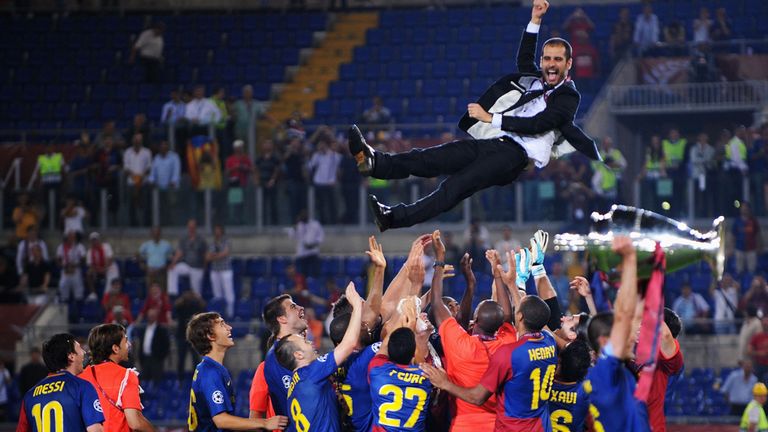 Bayern announced in January they had won the race to recruit the highly sought-after former Barcelona coach, who took a sabbatical following a hugely successful time at the Nou Camp.
He succeeds Jupp Heynckes at the Bavarian club this summer, hoping to somehow improve a side which won a Champions League, Bundesliga and DFB-Pokal treble in the season just ended but Netzer believes the Spaniard will do just that, and drive up standards in the top flight as a whole.
"It's a massive piece of good fortune for the Bundesliga that a coach like Guardiola will soon be arriving," the former Borussia Monchengladbach star of the 1970s told the official Bundesliga website.
"He won't only have a huge say in the direction of Bayern but of the entire league. I'm sure of that.
"I think we need some new ideas and some new impetus in Germany and that can only come through foreign coaches that favour a different style of play and have a different footballing philosophy.
"Obviously, not every team is going to be able to play football in the image of Guardiola, but he will definitely provide a fresh impetus to the league."
Netzer cannot wait to see how Guardiola goes about making Bayern's approach - built around the key Guardiola principles of possession and pressing - even more effective.
"I'm sure he will continue to develop them and I'm very intrigued to see how he does it," he added.
"There's definitely the potential to improve them, otherwise Bayern wouldn't have hired him. That's not to say that he will sacrifice any of the good things that the team has done this season, though."