Bundesliga: Wolfsburg midfielder Diego Ribas says he would like to return to Atletico Madrid
Wolfsburg midfielder Diego Ribas has declared he would like to return to Atletico Madrid next season.
Last Updated: 28/06/13 11:01am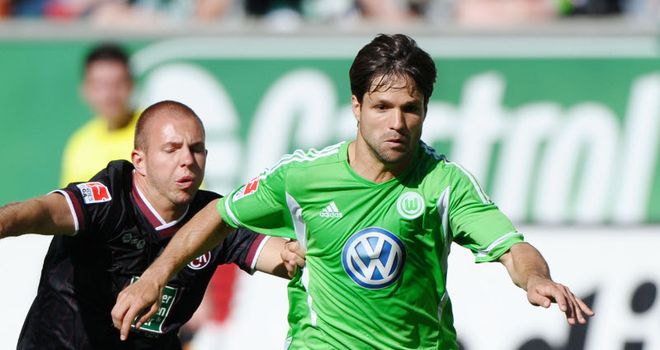 The Brazilian spent 2011-12 on loan at the Vicente Calderon and played a crucial role in Diego Simeone's side finishing fifth in La Liga and capturing the Europa League, including scoring in the 3-0 win over Athletic Bilbao in the final.
In an interview with Wolfsburger Allgemeine Zeitung, the player said he was happy with life in Germany and his present club, who finished 11th in the Bundesliga last season, but admitted it would be difficult to turn down an approach from Atletico, who can offer him Champions League football.
"It's true that I still want to return to Atletico, I spent a memorable year there and even won a trophy," he said.
"But it's also true that I haven't signed anything with Atletico, or any other team.
"It's difficult to evaluate because it's all in their hands. Atletico have to decide what they want to do, how much they want to pay and then see if they can strike a deal. It's up to them."
Despite his interest in a reunion with Simeone and Atletico, the Brazilian is not going to force his way out of Wolfsburg.
He said: "It's normal for clubs to enquire about my situation. This is the summer and this is football, this is how it works. It could be Atletico or any other team, but I insist, if I do leave then it'll have to be a good deal for Wolfsburg and for me. The best thing is for any club to speak to Wolfsburg first."
For the time being, the midfielder is content to stay in Germany, which he believes is fast becoming the most important footballing country in the world.
"At the moment I'm a Wolfsburg player, because at the moment there is no other reality. This is my situation today and that's what my contract indicates.
"My mind is concentrated in this club and today there is nothing else crossing my mind than playing for Wolfsburg.
"Me and my family are happy here in this city and in this country. It's a privilege to be at a Bundesliga club because, the way things are going, the German league is on its way to becoming the best footballing stage in the world."