Jurgen Klopp believes Robert Lewandowski will be a Bayern Munich player in 2014
Borussia Dortmund coach Jurgen Klopp believes Robert Lewandowski will be a Bayern Munich player the season after next.
Last Updated: 07/07/13 5:29pm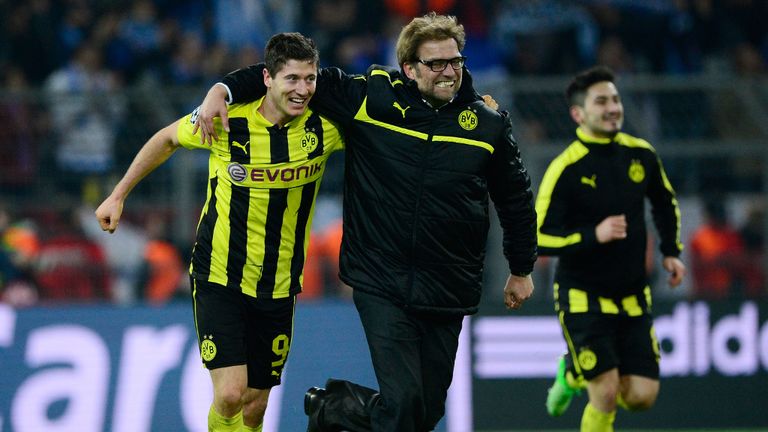 Lewandowski's future has been the source of much speculation over the last few months, with a host of Europe's leading clubs coveting the prolific Poland international.
For a while it looked as though Lewandowski, whose contract at the Westfalenstadion runs out in 2014, was destined to join Bayern once the recently-completed campaign was over, but Dortmund have ruled out selling the 24-year-old to any team - domestic or foreign - this summer.
However, Klopp feels it is only a matter of time before Lewandowski, who has also been linked with Real Madrid, Chelsea and Manchester City, will be seen in Bayern colours.
"I believe it's a fact that Robert Lewandowski will move to Bayern after the coming season," Klopp told German newspaper Welt am Sonntag.
"Now it's about this: how do we build in the time until then? That is our concern, and it is our duty to our fans and members to take care that in the coming season we also have a more than competitive team.
"Up until a certain point we were ready to talk, concerning Robert's desire for change. But as nothing happened in this time, we had to say at some point: That is no longer happening.
"And now we want to prove that we can develop, with a quality player like Robert, in the coming year. Our results in the coming season are the most important thing. And with Robert I know that he also sees it like that."
Lewandowski has scored 54 goals in 98 Bundesliga appearances for Dortmund and became the first player to score four goals in a semi-final of the Champions League when he single-handedly dismantled Real Madrid.
He was unable to fire Dortmund to victory in the final, though, as Bayern claimed a 2-1 win at Wembley thanks to a last-gasp Arjen Robben goal.