Bundesliga: Hamburg part company with coach Thorsten Fink
Hamburg hope to present a new coach "as soon as possible" after the dismissal of Thorsten Fink earlier.
Last Updated: 17/09/13 10:29pm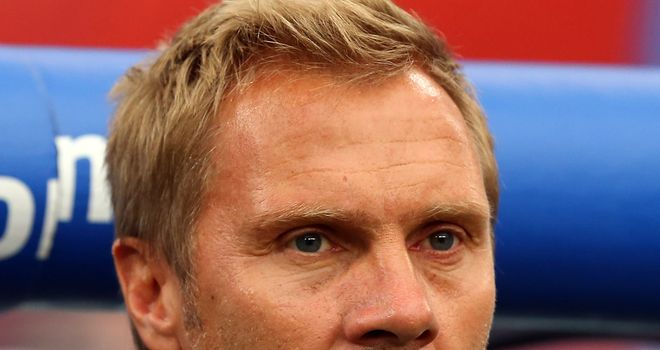 Fink was relieved of his duties after Hamburg lost three of their first five games of the new Bundesliga season.
With just one point separating them from the relegation zone, director of sport Oliver Kreuzer said it is "obvious to everybody" why Fink was relieved of his duties.
He added: "The future of Hamburg is our only concern."
At a press conference this morning, Kreuzer explained that Fink did not pay purely for Sunday's 6-2 defeat to Borussia Dortmund, but admitted that result proved to be the final straw.
"We were not convincing in our games and we could not recognise any consistency," Kreuzer said.
"I had a very good relationship with Thorsten and I hope it remains that way, but given the current situation, we decided yesterday to part ways.
"Rodolfo Cardoso and Otto Addo will coach the side this afternoon until further notice.
"Of course it is in our own interests to present a new coach as soon as possible."
Former Stuttgart and Hertha Berlin coach Markus Babbel had been cited as a potential replacement, but Kreuzer would not confirm whether he is a candidate, although his appointment seems unlikely.
"I had to chuckle when I heard the name Markus Babbel," he said. "But I don't want to go into it much.
"I have no idea if we will have a new coach by the weekend. It could all happen very quickly, but it could also take a bit of time.
"I can rule out that I called Markus Babbel last night, though. We are looking for somebody who speaks German and we have a few candidates in mind."
Hamburg captain Rafael van der Vaart said he was "shocked" by the decision to release Fink, but his opinion has not been valued by Kreuzer.
"Just before the derby against Werder - I can't really understand the timing," Van der Vaart told the Bild newspaper. "I'm totally shocked."
Kreuzer replied to his captain today, saying: "He really has nothing to say here. It is our decision and he has got to accept it."