Bundelsiga: Bert van Marwijk tells Dutch television station he is new Hamburg coach
Bert van Marwijk has told Dutch television station NOS that he has been appointed as the new coach of Hamburg.
Last Updated: 22/09/13 1:43pm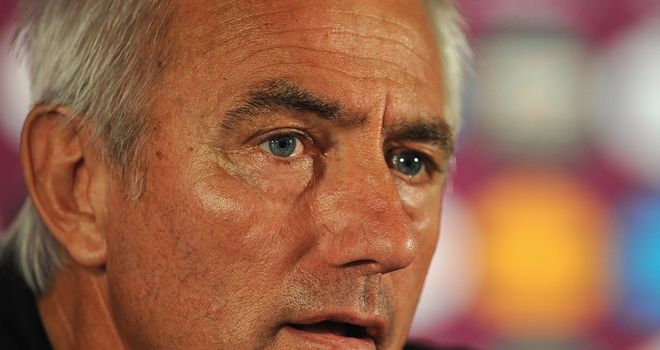 The former Borussia Dortmund coach, who left his position as Holland coach last year, appears set to be named as the full-time replacement for Thorsten Fink, who was dismissed on Tuesday.
"HSV called me as soon as Fink was dismissed," Van Marwijk said.
"We then sat down during the week and I told them what I could offer.
"They told me what they wanted. The contract is a two-year one with an option for a third.
"Hamburg is a fantastic city and HSV have a great team with a great tradition and a beautiful stadium.
"I'm going to drive to Hamburg on Sunday morning."
The club have yet to confirm his appointment, but director of sport Oliver Kreuzer said on Saturday that they intended to have a new coach in place "come the middle of the week."
A 2-0 defeat at home to Werder Bremen on Saturday saw the Red Shorts drop to 16th in the table.
They have won just one of their six games so far this season, losing four. Van Marwijk's appointment would be welcomed by club captain Rafael van der Vaart, who played under him at Euro 2012.
"The last time I met him was at the European Championships and I said then that he's a good coach," he told Sky television.
But speaking after yesterday's match, Hamburg defender Marcell Jansen warned the club have deep-lying problems that will take any new coach time to solve.
"I've been here for six years now and people say that when things are going well, then there is peace and quiet, but that's not necessarily true here," he told Sky.
"In my first two years, things went exceptionally, yet there was always a commotion.
"We had a change in coach, new director of sport in my first year and I think there are deep-lying problems which kick in, both when we are successful and unsuccessful.
"We should really be giving that some thought."