Austria coach Marcel Koller considers future after offer from Nurnberg
Austria coach Marcel Koller has confirmed he has been approached by Nurnberg, but wants time to think over the offer.
By Thomas Zocher
Last Updated: 18/10/13 8:03pm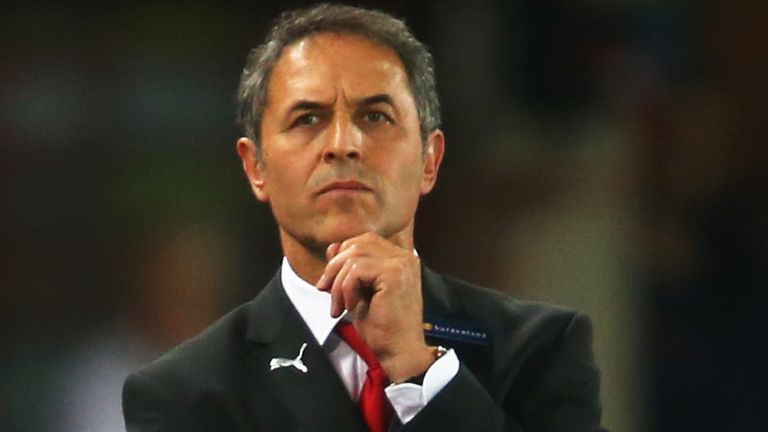 Nurnberg sacked Michael Weisinger earlier this month and youth-team coach Roger Prinzen is in caretaker charge for Saturday's game against Eintracht Frankfurt.
Former Tottenham boss Christian Gross has already reportedly turned down the job and his Swiss compatriot Koller has now emerged as the leading candidate.
Koller's contract with Austria is due to expire, but the former Bochum and Cologne boss does not want to rush a decision on his future.
"I have received an offer [from Nurnberg]," Koller told BILD. "I need time to think it over and come up with a decision.
"I'm also in touch with the [Austrian] FA, so at first Nurnberg will have to wait. The decision will be taken in the next few weeks."
Nurnberg's general manager Martin Bader, however, is keen to have an appointment in place within the next week.
Bader said: "We are eager to agree a deal with a new manager during the upcoming weekend.
"We want the new manager to be able to have a full week of preparation with the first-team squad ahead of our next Bundesliga match against Stuttgart."
Meanwhile, Prinzen could boost his own chances of keeping the job on a permanent basis if he can lead Nurnberg to their first win of the season, and potentially out of the relegation zone, against Eintracht.
"This is a challenge for me and I'm grateful to have been given this responsibility," said Prinzen, who only has to look at the example of Wiesinger to know that promotion from within is practised in Nurnberg.