Bayer Leverkusen striker Stefan Kiessling 'sorry' for freak goal
Bayer Leverkusen striker Stefan Kiessling has apologised for the 'goal' that beat Hoffenheim.
Last Updated: 19/10/13 7:51pm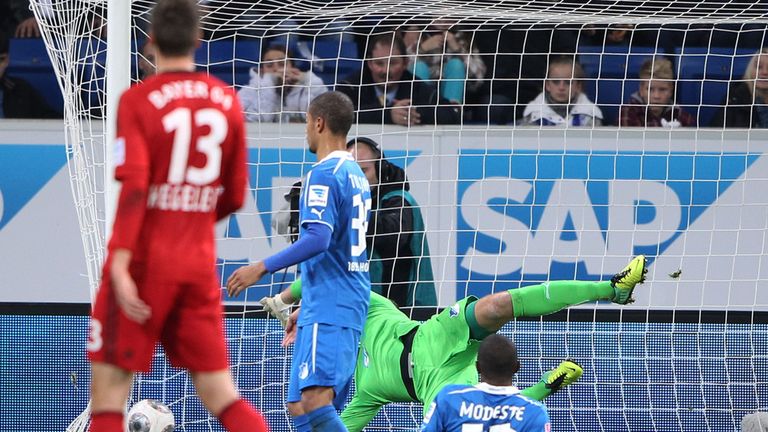 The Germany star's header flew the wrong side of the post but ended up in the back of the net having slipped through a hole - putting Leverkusen two goals to the good at the Rhein-Neckar-Arena.
A late response from Sven Schipplock proved mere consolation for the hosts, who subsequently demanded the game be replayed with television replays confirming Kiessling's 'goal' should not have stood.
Kiessling said via a social media website: "I can fully understand the reactions from many of you and I myself am absolutely gutted.
"After seeing the replays on television, I can clearly see that it was not a legitimate goal.
"During the game, after heading the ball and turning my head, I did not exactly see whether the ball had gone into the goal or not. Somehow, the ball was lying in the goal and I said exactly that to the referee.
"I'm sorry for all sports fans... Naturally, it's not nice to win like that. Fairness is important in sport, for us in the club and for me personally."
Leverkusen director of football Rudi Voller added: "Of course this is uncomfortable for us because this is not the way we want to win. But we can't do anything about it.
"Stefan Kiessling was not sure about it either, he didn't have a good feeling either. (Hoffenheim president) Dietmar Hopp has spent so much money on such a beautiful stadium, you'd think he would be able to spend a few more euros for a decent net."