Bundesliga: Hoffenheim complain about ghost goal scored by Bayer Levurksen
Hoffenheim want a replay of their game against Bayer Leverkusen in which the visitors were incorrectly awarded a goal.
Last Updated: 21/10/13 10:45am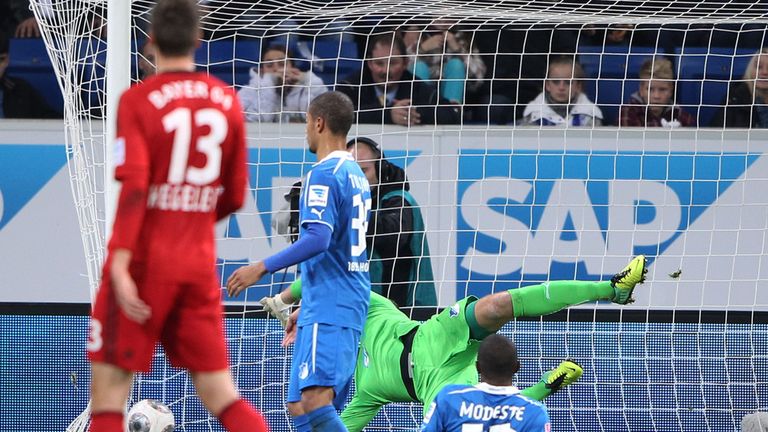 Leverkusen went 2-0 in front on Friday night when Stefan Kiessling was credited with the controversial goal during the second half by referee Felix Brych, and a late reply from Sven Schipplock was only a consolation for Hoffenheim.
Television replays confirmed Kiessling's header entered the goal through the side-netting and Hoffenheim have now sought permission for the Bundesliga match to be replayed.
"Hoffenheim have formally submitted an appeal to the German Football Association (DFB) against the validity of the home match against Bayer Leverkusen," read a statement on the club's official website.
"The aim of the lawyer's letter via mail and fax is to request a replay of the match."
The incident was almost identical to one during Bayern Munich's 2-1 win over Nurnberg in 1994.
In that game, Bayern's Thomas Helmer dragged an attempt wide of the goal, but the linesman on the opposite side of the field claimed it had gone in and the referee agreed. That game was replayed, with Bayern running out 5-0 winners.
Hoffenheim coach Markis Gisdol said of Kiessling's goal: "It's definitely bitter for us and something like this has already happened once and that game was replayed, so I think we're going to see this game again.
"Anything else would be a joke. You can't replay a Bayern Munich game and not a Hoffenheim game."
The win had lifted Sami Hyppia's Leverkusen to the top of the table before Bayern returned to the summit by beating Mainz 4-1 on Saturday.