Bundesliga: No goal-line technology in the top flight until 2015
German Football League chief Andreas Rettig says there will be no goal-line technology in the Bundesliga until 2015.
Last Updated: 21/10/13 2:22pm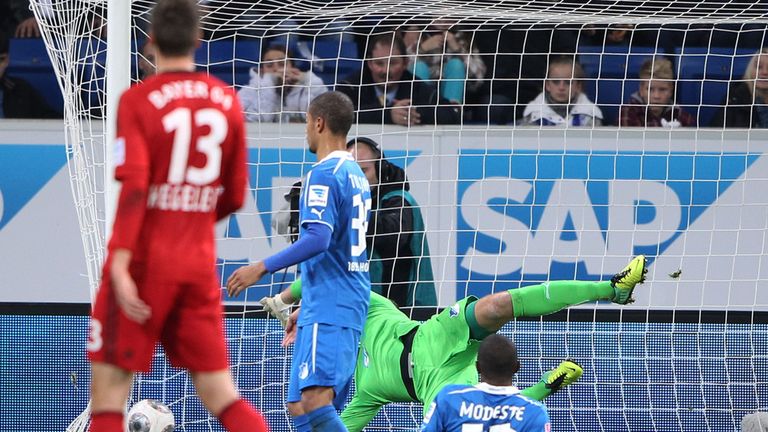 Stefan Kiessling put Bayer Leverkusen 2-0 up 20 minutes from the end at the Rhein-Neckar Arena, the goal controversially allowed to stand after the ball found its way into the back of the net via a hole in the side-netting. The visitors went on to win 2-1.
The game may now be replayed, after the hosts lodged an official complaint with the German Football Association (DFB) on Sunday evening, but there are no plans to turn to technology as a knee-jerk reaction.
"We at the DFL are not against technological advancement, but we are talking about a highly complex system here which is potentially still glitchy," said Rettig, whose organisation has previously ruled out its introduction until 2015.
"A tolerance of three centimetres, which FIFA currently permits, is not acceptable for us.
"Only when this has been significantly reduced, could we trust a technological chief referee."
While the DFL is to resist FIFA's introduction of technology for the time being, it has already contacted world football's governing body for help in finding a resolution for Friday night's disputed goal.
In a statement on Saturday, the DFL suggested FIFA's preference for on-field decisions - such as the one taken by the referee in awarding the goal - to remain untouched could mean Friday's result may stand.
Rettig reckons those on the pitch should have realised it was not a goal and overruled the referee's decision.
"The best way to control things is with fair play," he told the Frankfurter Allgemeine Zeitung newspaper.
"If everybody who carries responsibility also admits mistakes and can revise incorrect decisions, then this approach is better than any technology."
Rudi Voller and Michael Ballack believe the teams should replay the final 20 minutes, rather than staging the whole game again.
The DFB is set to discuss the incident at its weekly disciplinary meeting, although, due to internal elections, a decision may not be announced until the end of the month.
Given the precedent of a replay - Bayern Munich's game against Nurnberg in 1994, after a goal which never was helped Bayern win 2-1 - it is widely expected that the DFB will call for the match to be rescheduled.
However, Leverkusen's director of sport Voller suggests the game should recommence from the moment the 'ghost goal' was scored.
"It may sound rather odd to us Germans, but that's part and parcel in southern Europe," Voller said to Sky television.
"In our opinion, that is the fairest solution. If we have to replay the game, then we'd accept that also, but that would not be a fair decision.
"We correctly led 1-0 and, if there were to be a replay, then there would be only one winner - Hoffenheim."
Former Leverkusen midfielder Ballack agrees with Voller that starting from scratch would not be right.
"If it were to start again at 0-0, then Leverkusen would be clearly disadvantaged," the former Germany captain said. "They were leading at the time."
A long-term solution, according to the former Chelsea midfielder, would be to bring in technology.
"We're still blocking ourselves from technology for elementary decisions," he said. "We should make football a bit easier.
"So much is now at stake for clubs and, if you have a camera in the goal or television evidence, then you get the right decision.
"It should be considered seriously in order to prevent situations like this."