Bundesliga: Bayer Leverkusen striker Stefan Kiessling has defended his 'ghost' goal
Bayer Leverkusen striker Stefan Kiessling has defended his part in the 'ghost' goal against Hoffenheim.
Last Updated: 22/10/13 3:41pm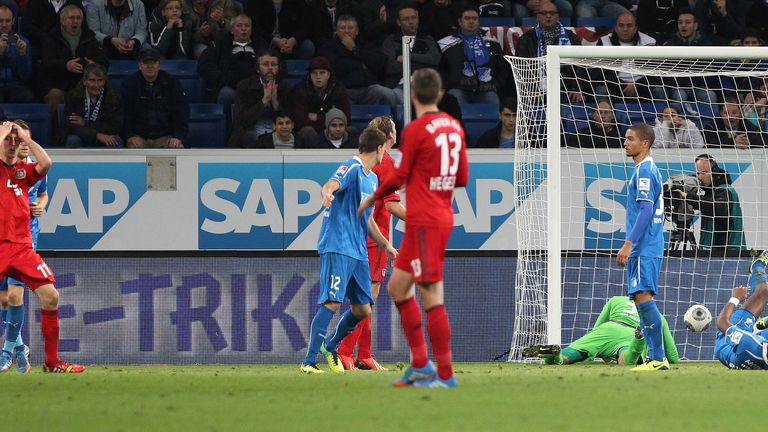 Kiessling scored the second goal in Leverkusen's 2-1 Bundesliga win on Friday, which has led to calls for goal-line technology.
The 29-year-old told Bayer's official TV channel that he has been harshly treated over the incident and that he would have owned up straightaway had he known what what happened.
He said: "The whole criticism that has come my way has been quite hard. Everyone assumes that I saw it and had to say.
"There were 30,000 people in the stadium who didn't see it. I am among them. I saw the ball fly in the direction of the side-netting, but I didn't see the impact."
At the time Kiessling initially appeared disappointed with the miss, then shocked that his team-mates congratulated him.
He said he told referee Felix Brych he did not know what had happened.
"I said to him I didn't know how it went in."
He added: "If it were so I could have been the last person not to have said that the ball went through a stupid hole."
Leverkusen turn their attention to Champions League matters on Wednesday when they host Shakhtar Donetsk.
"I hope that it will all calm down in the coming days," Kiessling said.
German Football League (DFL) chief executive Andreas Rettig has already insisted there will be no goal-line technology in the Bundesliga until 2015 at the very earliest, in spite of the incident.