Bundesliga: Franck Ribery is confident Bayern Munich can secure title early
Victory for Bayern Munich against Borussia Dortmund would be enough to earn them the title, according to Franck Ribery.
Last Updated: 12/11/13 10:45am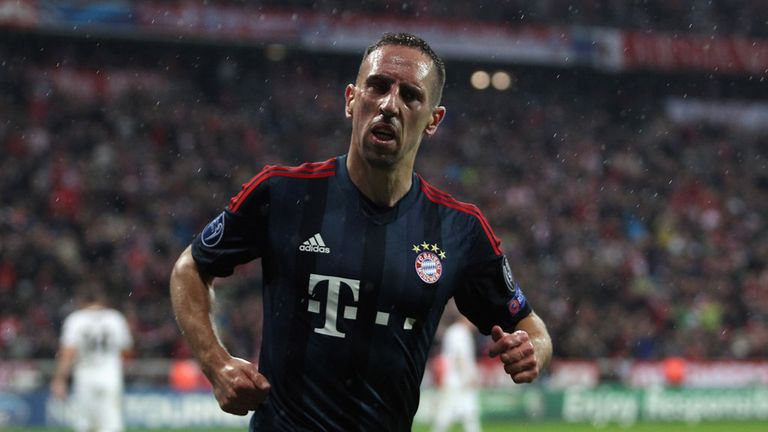 The top two clash at the Westfalenstadion when the league restarts following the international break and a victory for the defending champions would open up a seven-point gap which Ribery feels Dortmund would not be able to recover from.
"It's definitely the game of the year," the Frenchman told Bundesliga.de.
"I'm already looking forward to it.
"If we were to win there, then we would have seven points more than Dortmund and that would be a premature decision in the title race."
Ribery is so confident because, off the back of a league record 37-game unbeaten run, he cannot see Bayern losing anywhere else this season.
"It's a fantastic record and the great thing about Bayern is that we win practically every game and just about never lose.
"We'll do all we can to make sure this streak continues."
Ribery himself has not been on the losing Bayern side since April 2012 - a 1-0 loss at Dortmund.
"Hopefully that's not an omen," said the 30-year-old, who admits to being driven on by his desire to be named the best player in the world next January having been shortlisted as one of the favourites since clinching UEFA's Best Player in Europe award.
"Of course I think about that during games," Ribery said.
"I know that I still have to play well if I want to be named World Player of the Year.
"I want to carry on enjoying myself and playing without pressure, but of course this is a title I desperately want to win."
The World Cup is another title the Frenchman would like to add to his collection, but to have any chance of that, he will have to be at his inspirational best for the upcoming play-off matches against Ukraine.
"They're going to be two extremely important games, both for the national team and our country," he said.
"It's going to be important that we remain united. Only with a strong solidarity, can we book our ticket to Brazil.
"It's never easy to cope with such pressure, but I have plenty of experience now to play well and be decisive. I'm ready."