Bundeliga: Hamburg manager Bert van Marwijk says his side are ready to face Bayern Munich test
Hamburg coach Bert van Marwijk sounded the battle cry as he prepares to take his side to face Bayern Munich on Saturday.
Last Updated: 13/12/13 11:18am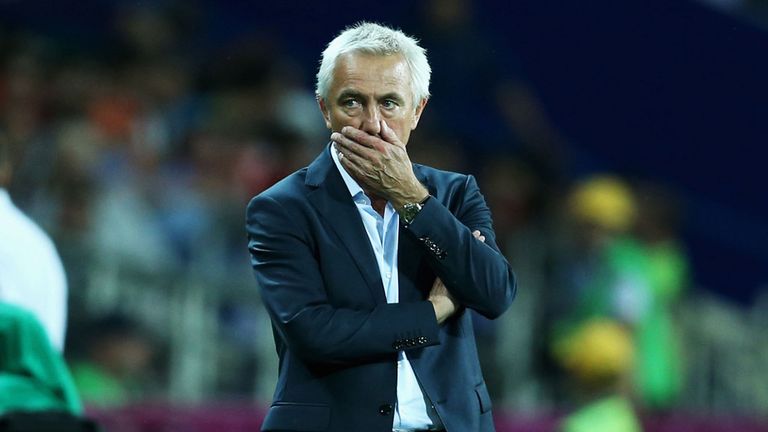 Disgruntled by a 1-0 defeat to Augsburg last weekend and perturbed by a 9-2 loss on their last trip to Munich, the Dutch coach has tried to ruffle the feathers of his players in a bid to avert another embarrassment this weekend.
"I've been here for three months now and I've heard so many new things," he said.
"I've already changed many things and I'm going to change a lot more, above all in terms of discipline."
Van Marwijk's biggest concern was being told after the 1-0 defeat to Augsburg, which followed a three-game unbeaten run, that such a setback was expected in northern Germany.
"I cannot accept that," he said. "Even less so when journalists tell me it's been like this for years here.
"This comfort-zone feeling is slowly starting to irritate me. It's almost as if these things are being forecast in advance and that will bother me until I find a solution."
Hosts Bayern were dislodged from their comfort zone on Tuesday when they lost their first competitive game of the season, going down 3-2 at home to Manchester City in the Champions League.
"A defeat is never good but maybe the club, the coach and the team needed a defeat to realise how hard it is to win games, both in the Bundesliga and in Europe," said coach Pep Guardiola.
Club president Uli Hoeness also welcomed that defeat, telling the Bild newspaper that "this constant talk about this and that record was not good".
"Now we can focus on our football again," he added.
They still have one record they can extend on Saturday, though, with their 40-game unbeaten streak in the Bundesliga intact and victory would guarantee them top spot going into the winter break for the second season running.