Bundesliga: Timo Werner poised to commit future to Stuttgart
Stuttgart midfielder Timo Werner admits he "cannot envisage" playing anywhere else as he looks set to extend his deal.
Last Updated: 14/01/14 1:00pm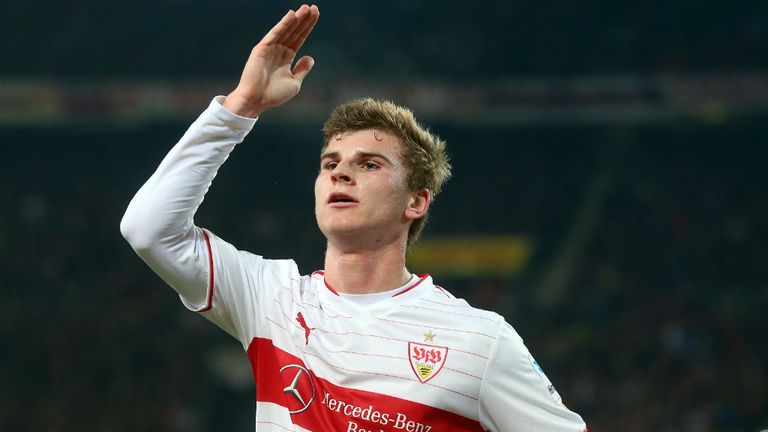 Werner has emerged as a potential late candidate for the Germany World Cup squad with four goals in 14 appearances so far this season.
He became the youngest player to score two goals in a Bundesliga match when he helped the Swabians to a 3-1 win over local rivals Freiburg in November and his club are keen to warn off potential suitors by tying him to an improved deal. His current contract runs until 2015.
"We've had some good talks and we're already at quite an advanced stage," the club's director of sport Fredi Bobic told the Stuttgart Nachrichten newspaper.
"Both sides have given some very clear signals."
One of those has come from the player, who was born in Bad Cannstatt, just a stone's throw from the Mercedes-Benz Arena.
"I cannot envisage playing anywhere else, ever," he said. "I've been at the club since 2002 and hope to stay for many more years to come."
Bobic is willing to oblige and provide him with the opportunity to make a name for himself at the 2007 Bundesliga champions.
"There will not be any release clause (in his new contract) - we don't want to have any negative situations, but rather we want to give Timo a constant basis and a continued solid education," he said.
Current Germany internationals Mario Gomez and Sami Khedira are just two products of Stuttgart's youth academy, while Khedira's brother Rani made his first-team debut in the first half of the season.