Guardiola factfile
Sky Sports takes a look back at Pep Guardiola's career after he was named Bayern Munich head coach.
Last Updated: 17/01/13 12:44pm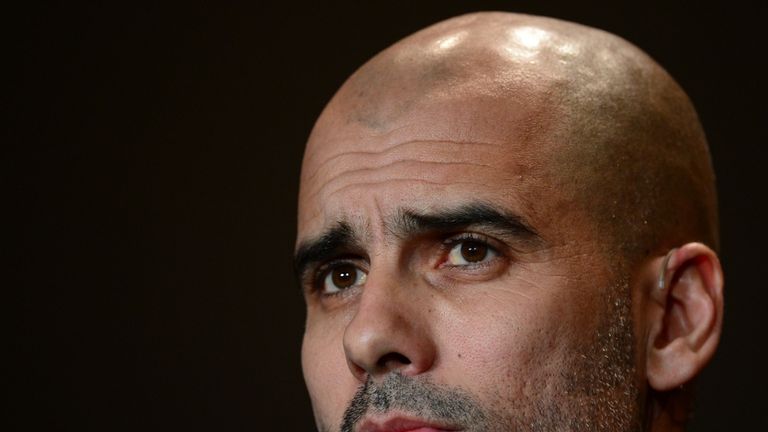 Guardiola stepped down as Barcelona coach at the end of last season and the 41-year-old has been on a one-year sabbatical.
During his time off, he has been linked with a number of top Premier League clubs including Chelsea and Manchester City. The Spaniard was even talked about as a potential successor to Sir Alex Ferguson at Manchester United.
He led Barca to 14 titles over four seasons and turned the Catalan club into arguably the best team in the world and now he has reappeared in the world of football as coach of Bayern Munich, starting from next season.
Here, Sky Sports takes a look back at his career.
1971: Born Josep Guardiola on January 18 in Manresa, Barcelona. Nicknamed 'Pep'.
1990: December - Makes Barcelona debut against Cadiz. Coach Johan Cruyff converts him from right wing to centre midfield.
1992: May - Helps Barca retain league title and win European Cup, beating Sampdoria 1-0 at Wembley.
August - Scores in Olympic final in Barcelona against Ghana as Spain take gold medal.
October - Makes full international debut in Belfast against Northern Ireland.
1994: The Cruyff 'Dream Team' make it four league wins in a row, with Guardiola as captain on last day of the season.
1996: Spain coach Javier Clemente leaves Guardiola out of Euro 96 squad.
1998: Barcelona beat Borussia Dortmund 3-1 on aggregate to take last European Super Cup played over two legs. Van Gaal's side also win La Liga and Copa del Rey but Guardiola plays only six times and misses out on World Cup squad place.
1999: Barca retain league, but fail to make the Champions League final at the Nou Camp. Guardiola plays 22 times, scoring once.
2000: Barca defeated 5-3 on aggregate by Valencia in Champions League semi-finals. Finish second in Primera Division, five points behind Deportivo La Coruna. Plays in all four of Spain's Euro 2000 games.
2001: June - Barca finish season in fourth. Knocked out of Copa del Rey at last-four stage by Celta Vigo. The 1-1 second-leg draw at Nou Camp is Guardiola's last game in the Blaugrana shirt.
September - Signs for Brescia in Serie A.
November 11 - Banned from Italian football, having tested positive for nandrolone after Brescia's 1-0 win over Piacenza on October 21.
November 28 - Tests positive for nandrolone again after match against Lazio on November 4. Later banned for a total of four months by Lega Calcio and fined 2000 euros.
2002: Signs for Roma but plays only four games in his one season at the club.
Returns to Brescia in winter transfer window where, along with Roberto Baggio, he is key in helping them avoid relegation.
2003: Signs for Qatari side Al-Ahly for two seasons and has an immediate impact, winning the best foreign newcomer award.
2005: After a coaching course in Spain, joins Dorados de Sinaloa in Mexico in December, but only plays until March before returning to finish the course.
2006: July - Becomes a qualified coach.
November - Announces his retirement from playing.
2007: July - Named as coach of Barcelona B.
October - Cleared of drug charges from six years earlier.
2008: Named as head coach of Barcelona, to replace Frank Rijkaard on June 30.
2009: May 2 - Steers Barca to 6-2 victory over Real Madrid at the Bernabeu.
May 13 - Barcelona defeat Athletic Bilbao 4-1 to win the Copa del Rey and earn Guardiola first silverware as coach.
May 16 - Madrid's defeat at Villarreal secures Barca a first league title since 2006.
May 27 - Barca beat Manchester United 2-0 in Champions League final to become the first Spanish club to complete the treble.
August - Wins European Super Cup with a 1-0 victory over Shakhtar Donetsk and the Spanish Supercopa with 5-1 aggregate win over Athletic Bilbao.
December 19 - Barca claim their sixth trophy of the year with a 2-1 win over Estudiantes in the Club World Cup.
2010: April 10 - Becomes the first manager in Barcelona's history to beat Real Madrid four times in a row in El Clasico.
May - Steers Barca to 20th La Liga title with a European record of 99 points.
July 14 - Signs one-year contract extension to remain at the Nou Camp until June 30, 2011.
November 29 - Leads Barca to a famous 5-0 Clasico victory over Jose Mourinho's Real Madrid.
2011: February - Signs one-year contract extension to keep him at Barca until June 2012.
April 26 - Leads Barca to Copa Del Rey final for second year in a row but they lose 1-0 to Real Madrid.
May 2 - Guides Barca to their second Champions League final in three years, beating Real Madrid over two-legged semi.
May 11 - Leads Barca to third straight Primera Division title, secured with two games to spare by 1-1 draw at Levante.
August - Leads Barcelona to victories in the Spanish Supercopa and UEFA Super Cup.
December 18 - Barca beat Santos 4-0 in the FIFA Club World Cup final.
2012: April 24 - Barca only manage a 2-2 draw at home to Chelsea in the second leg of their Champions League semi-final, meaning they go out 3-2 on aggregate.
April 27 - Announces he will not renew his contract and will leave Barca at the end of the season. Decides to move to Manhattan, New York until he reaches a decision on his future.
November 11 - Agent Jose Maria Orobitg denies his client has been approached by Serie A club AC Milan, but admits Guardiola is keeping his options open and will consider offers in 2013.
2013: January 16 - Says in an interview for the FA's 150th anniversary celebrations that he would like to coach in England one day. Hours later he is confirmed as Bayern Munich boss on a three-year deal to start in July.