Man on a mission
Bayern Munich star Bastian Schweinsteiger speaks exclusively to Sky Sports about the motivating factor of Champions League heartbreak and the prospect of facing Arsenal
By Peter Fraser - Follow me on Twitter @SkySportsPeteF
Last Updated: 18/02/13 5:27pm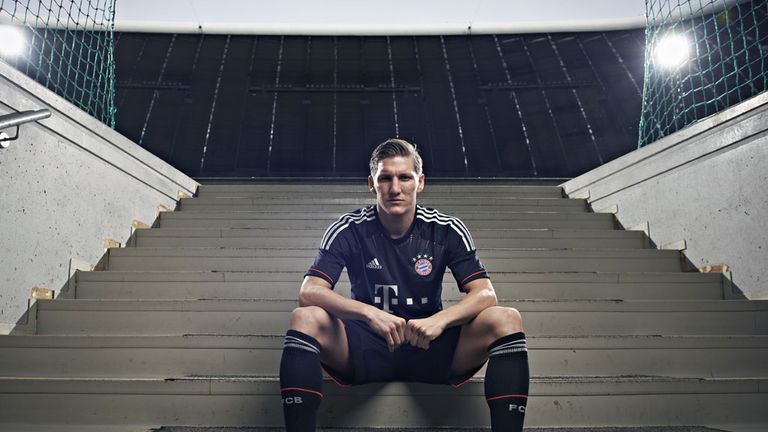 Bastian Schweinsteiger means business. The Bayern Munich midfielder has twice suffered the hurt of defeat in the final of the UEFA Champions League and now he wants to ease the heartbreak.
The German superstar first came agonisingly close to winning the European Cup when losing 2-0 to Inter Milan in 2010. Then, last season, perhaps even more painfully, Bayern were beaten on penalties by Chelsea at their own Allianz Arena, where Schweinsteiger failed with his club's final spot-kick, before Didier Drogba then won the cup, having previously scored the decisive penalty in the semi-final victory over Real Madrid.
Bayern have since approached this season in formidable form as they seek to set the record straight. Jupp Heynckes' team are 15 points clear at the top of the Bundesliga and, in the Champions League, qualified from Group F with ease after scoring an impressive 15 goals.
That has booked a date with Arsenal in the last 16 and Bayern have travelled to England for their first leg at Emirates Stadium on Tuesday night before the return meeting in Germany on 13th March.
Schweinsteiger knows Arsenal, under-pressure manager Arsene Wenger and the likes of Jack Wilshere and former Bayern man Lukas Podolski will pose a significant threat despite their domestic problems. But the Bayern idol has his sights firmly set on victory.
How much are you looking forward to playing Arsenal?
They are a great English team with a fantastic manager. I was a substitute when we played against them in 2005. But, this time around, I am very much looking forward to taking part in the game and, hopefully, Bayern will progress to the next round.
Who are the danger men you will have to watch when playing against Arsenal and why?
Arsenal are a side full of dangerous players and if we are not at our best, they will punish us. I know Jack Wilshere is playing very well at the moment and he was impressive for England against Brazil. But it would be foolish to focus only on him. They have strong players throughout their team such as Mikel Arteta, Podolski and Santi Cazorla, for example.
You will most likely play against your international team-mates Podolski and Per Mertesacker over the two legs. Will you speak to them before the match and how will it feel to line up against them?
These are players I know well, especially Lukas, and it will be great to come up against them in a match of this importance. Maybe our knowledge of playing with them will help us. But, equally, they know us well, too, so we can take nothing for granted.
What sort of reception do you think former Bayern Munich player Podolski will receive on his return to Munich for the second leg?
Lukas was a wonderful player for us and our fans have great memories of him. So, I am sure he will be received very well.
What does the Champions League mean to you? Is it the greatest football tournament in the world?
I think that, at the moment, Europe contains the strongest sides in world football. So, yes, I think this is the greatest club tournament in the world. I have played in the final twice and losing has made me want to win it more. It means a lot to me and it means a lot to the club. But, most importantly, I know that the fans are desperate for us to win the competition. It would mean a lot to be able to win the competition for them.
How far can Bayern Munich progress in the Champions League this season?
We have to believe that we can win it. We have a very strong team with fantastic players and we feel confident that we can compete with any team we come up against. Of course, anything can happen in football. That is the beauty of it. So, we will have to wait and see what happens.
Champions League 2012/13
Bastian Schweinsteiger
Appearances
6
Minutes played
422
Goal Attempts
 
Goals
2
Total shots
7
Shooting accuracy
86%
Goals-to-shots ratio
29%
Blocked Shots
1
Passing
 
Goal assists
1
Chances created (inc. assists)
3
Passes
363
Pass completion %
88%
Crossing
 
Crosses
5
Cross completion %
20%
Dribbling
 
Dribbles
6
Dribble completion %
33%
Defending
 
Tackles
14
Tackles won %
100%
How does the mentality of the team change from the group stages to the knockout rounds?
It is hard to say. If you want to be in control of your own fate in the group stages, then you need to win every game. But then the pressure is greater the further you go in the competition. One thing you can guarantee once you get to the knockout stages is that you will be playing against the very best teams and the most organised teams. So, you need to play at your peak in every game in order to stand a chance of progressing.
How do you address a two-legged tie? Is avoiding defeat vital in the first leg?
At Bayern, every game is approached with winning in mind. Although, I think that for some teams the approach sometimes is different if you are not at home in the first leg. Teams seem to prefer to play at home in the second leg. It is amazing what a difference home support can make when you absolutely need to win. The fans can really change a game sometimes.
How special would it be to play in the final at Wembley?
Wembley is one of the great stadiums in world football. There is a fantastic history there. But the modern stadium is also very impressive and it would be a fantastic arena in which to play. To take part in the Champions League final at Wembley would certainly be a career highlight for me and my team-mates.
Who are the clubs to watch in this season's Champions League last 16 and why?
There are some huge teams still in the competition. Everyone will be talking about Barcelona, Real Madrid and Manchester United but you also need to be aware of the strength of sides like Juventus, Paris Saint Germain and, of course, the German sides Schalke and Borussia Dortmund. This will be a very tough season and there are no easy games from here on in.
What is the key to balancing European form with domestic form?
Fitness to be able to play so many games in a season. It is also important to have strength in depth with your squad. To be able to have top-quality players both on the pitch and on the bench is the key to being a consistent, top side these days.
Who is the toughest opponent you have faced in the Champions League and why?
It is hard to choose between the games against Chelsea and Real Madrid in last year's competition. Both ties were very close and it is in games like this when you get to play against players of the highest quality. I feel very lucky to be in this position, playing at the highest level in football.
What is your favourite memory/moment from Champions League history and why?
Scoring the winning penalty against Real Madrid at the Bernabeu in last season's semi-final was an incredible moment for me. It was such an amazing feeling to know I had secured Bayern's spot in the Champions League final.
What are your thoughts on the new adidas Finale Wembley official match ball? Are you looking forward to playing with it?
It is a brilliant ball, the adidas Champions League balls always are. The ball reflects the final with the graphics and the dates of previous finals at Wembley. We want to be at that final so hopefully we will be playing with this football for a long time this season.
Bayern Munich's Bastian Schweinsteiger is featured with the adidas Finale Wembley, the official match ball for the UEFA Champions League Final 2013. The ball celebrates the finals that have taken place at the home of football over the last 50 years. Visit adidas.com RRP £95.00