Schurrle report
Chelsea look set to further bolster their forward options in the summer with the acquisition of Germany international Andre Schurrle from Bayer Leverkusen. Adam Bate assesses what the signing means for Chelsea, with the help of German football expert Raphael Honigstein.
Last Updated: 19/04/13 4:38pm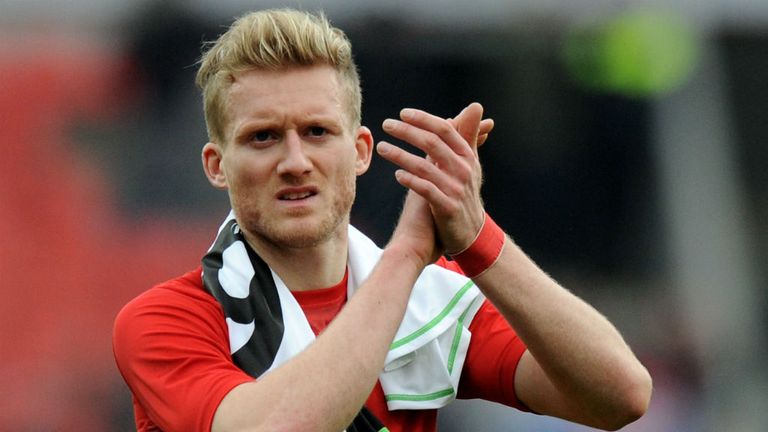 Chelsea are changing. That much is obvious. While supporters pine for the return of Jose Mourinho, the template for success that he constructed has been altered more in the past 18 months than the first four years following his exit. At their best, Chelsea were powerful, clinical, mentally strong and occasionally thrilling. But the anticipated arrival of Andre Schurrle from Bayer Leverkusen is further evidence that Roman Abramovich wants something different from his team.
The Blues side that won the Premier League as recently as 2010 was one full or purpose but bereft of playmakers. A midfield trio of John Obi Mikel, Michael Ballack and Frank Lampard did not need to provide subtle invention - it virtually guaranteed domination and goals. Nicolas Anelka and Florent Malouda were not in wide positions to supply Didier Drogba, they were there to supplement his strikes. Both reached double figures in the Premier League that season as Chelsea scored a record 103 goals.
It was a formidable side but one curiously devoid of genuine creativity. Chelsea have not been able to match those results in 2013 - and interim boss Rafael Benitez is fond of strict structure - but the current team does boast something its predecessor did not. Chelsea are assembling a plethora of playmakers. The diminutive trio of Eden Hazard, Oscar and, in particular, Juan Mata has helped take the team in a different direction.
Andre Schurrle - Bundesliga 2012/13
 
 
Season
2012/13
Appearances
29
Goals
9
Assists
5
The acquisition of Schurrle represents a further step towards this new vision. He made his breakthrough as part of Thomas Tuchel's young FC Mainz side and their distinctive playing style has informed his development. "There is still a lot of Mainz in me," Schurrle told Bild last month. Asked about his former boss, he added: "I owe him so much. He made me captain of the U19s and we won the German title. Then he brought me through to the first team and gave me the confidence to be a success in the Bundesliga."
Tuchel encouraged tactical variety with an emphasis on high tempo, intense pressing with a desire to win the ball back high up the field - arguably the antithesis of the manner in which Chelsea won the Champions League last year. He has no doubts over Schurrle's ability. "Andre has everything to compete at the top level in Europe," Tuchel told Bild. "He is a great finisher and has a good left foot. He covers a lot of ground and his sprint performances are also strong."
Shots - Bundesliga 2012/13
 
 
Player
Team
Shots
Stefan Kiessling
Bayer Leverkusen
105
Andre Schurrle
Bayer Leverkusen
101
Robert Lewandowski
Borussia Dortmund
85
Dribbles - Bundesliga 2012/13
 
 
Player
Team
Dribbles
Diego
Wolfsburg
112
Franck Ribery
Bayern Munich
107
Andre Schurrle
Bayer Leverkusen
98
Schurrle is a player with the versatility to operate anywhere across that band of three in a 4-2-3-1 formation or even take the central striker role. With a powerful shot and composed finishing, he will also bring goals. That's important for a team whose top Premier League goalscorer remains the 34-year-old - and out-of-contract - Frank Lampard, who has netted a dozen times this season.
But unlike Lampard, he is a more obvious fit for this new-look Chelsea side. The 22-year-old can add dynamism to the team with his dribbling skills and ability to take the ball on the move, playing an active part in fast counter-attacks - part of the reason why he has been on the radar of those at Stamford Bridge since Andre Villas-Boas' spell in charge.
His preference for playing from the left makes Eden Hazard the most likely direct competitor for a starting spot. That's unlikely to be a major issue given that the young Belgium international has already played 62 games for club and country this season. Schurrle could allow Chelsea the luxury that Marko Marin should have given them - the chance to make like-for-like changes in the attacking midfield slots without significantly weakening the side.
Expert View: Raphael Honigstein
Andre Schurrle is a very exciting player. He's the player who really threatened to keep Lukas Podolski out of the Germany team over the last couple of years on the left-hand side. He's a wide striker but much faster. A real counter-attacking player who can play as an out-and-out winger or if needs be as a second forward in a No 10 or nine-and-a-half position. That's how he broke through at Mainz.
He hasn't quite fulfilled the potential yet. People expect more of him because he's so talented but he's definitely in different category to, for example, Marko Marin. Many people in Germany didn't quite understand why Chelsea bought him. With Schurrle it is a much more straightforward deal. They are getting a German international who is on the fringes of the regular line-up for Joachim Low and he's a very exciting player. He's also a player who could work very well in the Premier League.