All rise for Dortmund
Nick Miller can't help but ride the waves of love for Jurgen Klopp's glorious Borussia Dortmund side in the wake of their demolition job on Real Madrid. Be warned though, enjoy them now because you're going to miss them when they're gone...
By Nick Miller
Last Updated: 26/04/13 9:52am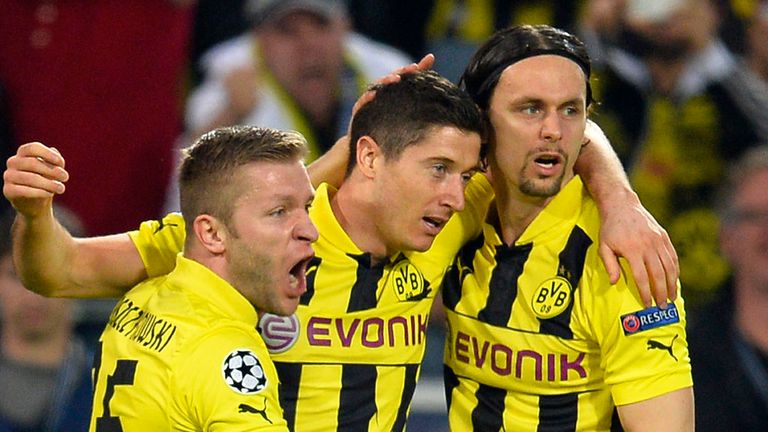 Back in 2010, then-Lech Poznan striker Robert Lewandowski was due to fly to England to have transfer talks with Blackburn. However, an Icelandic volcano then belched a cloud of ash into the air in one of nature's occasionally inconvenient but often amusing 'V sign' to the human race, planes were grounded and he was unable to make it.
Now, whether he would have actually chosen Rovers over Borussia Dortmund had he made the trip is doubtful, but Dortmund were not the force they are today, and Venky's were yet to arrive to make Blackburn a complete laughing stock...so you never know.
How times change. Blackburn have only just made sure they won't be relegated from the Championship this season (probably - only goal difference can scupper them now, but you wouldn't rule anything out with them), while Lewandowski has just scored four goals against Real Madrid to put his side the distance of a 96th-minute-tap-in-against-Malaga from the Champions League final.
Even so, watching Dortmund take Real apart at the Westfalenstadion on Wednesday was a rather bittersweet experience. It was a little like the last night out at university; everyone's having a wonderful time, but you know very soon that all will be going their separate ways, and it will never be the same again.
For this Dortmund side is being dismantled. It started with the now-temporarily returned Nuri Sahin a couple of years ago, then Shinji Kagawa went to Manchester United last summer, now Mario Goetze is on his way to a Bayern Munich side that should win the Bundesliga by a billion points next season and Lewandowski might follow him, or come to England. Plus, Barcelona apparently want Mats Hummels, while there will be plenty of sides sniffing around the excellent Ilkay Gundogan (who either looks like a musketeer or an Elizabethan courtier - possibly both) as well.
This is a team being broken up. Dortmund have managed to sniff out relative bargains and make them stars before, but there are only so many times a side can do that. Of course, one can't feel too sorry for them because they're not paupers these days - they're in the upper echelons of a food chain, just below the very biggest of boys but above everyone else, and in sniffing out those bargains they will have screwed over a fair few smaller clubs, the way Bayern have screwed them in the Goetze deal.
But still, this is a dreadful shame. Whether you agree with the adoration espoused by many or not...well, this game may have either persuaded you or strengthened your resolve not to get caught up in the hype (after all, they can't be that good if they've been so thoroughly schooled in the league by Bayern), but even if you don't subscribe to the love of Dortmund's 'philosophy', surely you can appreciate that this is a fine team.
They might continue to dazzle even without their stars. Jurgen Klopp has a fine tactical brain - he out-manoeuvred Jose Mourinho in this game, whose Real Madrid side looked uncomfortable with Luka Modric as an extra midfielder, and with Dortmund relentlessly and mercilessly pressing so they couldn't build those devastating attacks. Indeed, while Mourinho's selection may have been influenced by doubts over Angel Di Maria (due to the birth of his child, it wasn't certain that he'd be involved at all), it could equally have been informed by Dortmund beating Real in the group stages, when Klopp cited stopping Xabi Alonso as the key to stopping Madrid. Maybe his response was to give Alonso some help, but it back-fired.
Dortmund do of course have a number of fine players that will be there next season. Marco Reus, Sven Bender, Kevin Grosskreutz, Jakub Blaszczykowski and Lukasz Piszczek could all still be around, plus whoever else they either recruit or uncover. They will not tumble from view.
Perhaps, with Klopp in charge, they will remain special. Perhaps they will bring through another set of brilliant, twinkling players. But this felt like the - glorious, rather special - end of something. And if it is, we should savour them. Drink this version of Dortmund in. You'll miss them when they're gone.
This article first appeared on Football365