It's Bayern's time
Bayern Munich have had their fair share of European disappointments over the years. But as they prepare to face Borussia Dortmund in the UEFA Champions League final at Wembley on Saturday, Pete Hall thinks the wait could soon be over.
Last Updated: 23/05/13 4:20pm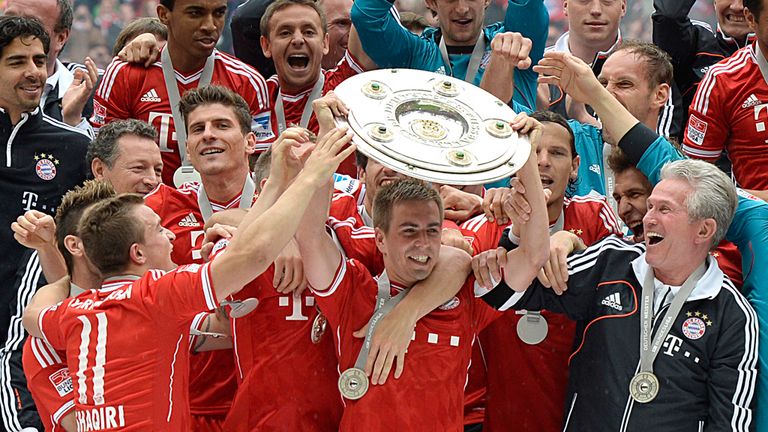 Having dominated German football since the early 80s, clinching eight Bundesliga titles since the turn of the century, Bayern Munich could, possibly should, have added more European glory to their illustrious role of honour than they have. For all their domestic success, the Bavarian giants have often capitulated under the pressure of the big occasion, and have only been crowned champions of Europe once since they won the trophy three times in a row in the mid-70s.
However, this time around, if Bayern produce anything like the form that has seen them dismantle Italian champions Juventus, Spanish champions Barcelona and the 17 other unworthy competitors in the Bundesliga this season then surely Die Roten will finally get revenge over old-foes Borussia Dortmund and end their barren run in Europe's elite competition in style.
Since the famous treble of titles from 1974 to 1976 Bayern have a the unwanted record of losing five of their previous six European Cup finals. They were on the receiving end of Aston Villa's only European success in 1982, famously collapsed in the dying moments in the Nou Camp in 1999 against Manchester United, and most heart-breaking of all, suffered penalty shoot-out agony against Chelsea last time out in their own backyard.
That painful defeat to Roberto Di Matteo's men has been the spur that boss Jupp Heynckes needed to launch this season's all-out assault on anyone that has stood in his path. "Of course I still think about it, because it was almost a home game for us," star midfielder Bastian Schweinsteiger revealed earlier in the season when asked about the Chelsea match. "The stage was all set for us to win, and the defeat just shouldn't have happened. But it also acts as added motivation this season."
This attitude has been the underlying philosophy of the Bayern juggernaut this campaign, which Heynckes has masterminded in his final season at the club. Beaten only once in the Bundesliga all season, winning an incredible 29 out of 34 matches, and scoring 98 goals along the way was the most emphatic response their supporters could have ever imagined to their Champions League hurt - and two years in Dortmund's shadow.
Revenge
Revenge has been the spur at home and abroad, as their humiliating 5-2 German cup final defeat to Dortmund, just seven days before their penalty heartache against Chelsea only added to Bayern's determination. And Heynckes, who has provided a period of stability after a tumultuous Louis Van Gaal tenure, has not overseen a major overhaul of his squad, but added just a few marque signings to create a team very much in their zenith of football.
Eyebrows were raised at the substantial fee shelled out on Javi Martinez after an impressive season at Athletic Bilbao, but alongside the irresistible Schweinsteiger, they have directed the demolition of opponents week in, week out. With a remarkably similar pass completion rate of just over 87% in this season's Champions league competition, Schweinsteiger and Martinez have formed a formidable midfield duo, protecting the rearguard, whilst allowing the likes of Frank Ribery and Thomas Muller the freedom to break forward.
And Muller, who could hold the key to Bayern's success at Wembley in Saturday's final, owes much to his midfield anchormen for his eight goals from his number 10 position in this season's Champions League campaign.
Even with Dortmund's free-flowing style, spearheaded by the in-form Robert Lewandowski, breaching a Bayern defence which has conceded a measly seven Bundesliga goals away from home all season, will be incredibly difficult.
Part of Borussia Monchengladbach's successful side that finished fourth back in the 2011/12 Bundesliga season, Brazilian defender Dante moved to the Allianz Arena last summer, and immediately established himself in the first-team fold. But even if the rangy centre-back doesn't get the nod, the experienced Daniel van Buyten and Jerome Boateng are more than capable of providing Manuel Neuer with sufficient protection.
Their full-backs complement each other perfectly with the right blend of youth and experience. Captain Philipp Lahm has been as reliable as ever, and David Alaba, who is the youngest player ever to represent Austria, is so highly-rated many pundits have touted him as an adept successor to Lahm in the future.
Tireless
In attack, Mario Mandzukic leads the line in a tireless manner, defending from the front, which could be key to silence the creative threat of Ilkay Gundogan on Saturday, as well as providing a focal point for forward play. And if that doesn't work, German international hitman Mario Gomez adds an altogether different option, whose predatory instincts could be the difference if Bayern find themselves in a spot of bother.
It would be a fitting send-off for the outgoing Heynckes, who obviously commands a great deal of affection from his players. Even in the last game of the season, with the Bundesliga title decided, the Bavarians gave Borussia Monchengladbach three goals in the first ten minutes, and still emerged victorious.
It is this ruthlessness that separates this Bayern team from those previous sides who have fallen at the final hurdle. Dortmund manager Jurgen Klopp, in his quest to win over neutrals in the run-up to the final, likened Bayern to a 'remorseless superpower', but spurred by their thirst for revenge, Die Roten have taken no prisoners in their quest for glory.
"The king is dead, long live the king" was how German newspaper Die Welt described Bayern's emphatic semi-final defeat of Barcelona, and if they can finally banish their demons on the big stage, a new king of Europe will take some dethroning for years to come.