Summer Scout - Hiroshi Kiyotake
The Summer Scout eyes Japanese star Hiroshi Kiyotake, spotted at the Confederations Cup.
Last Updated: 21/05/14 12:02pm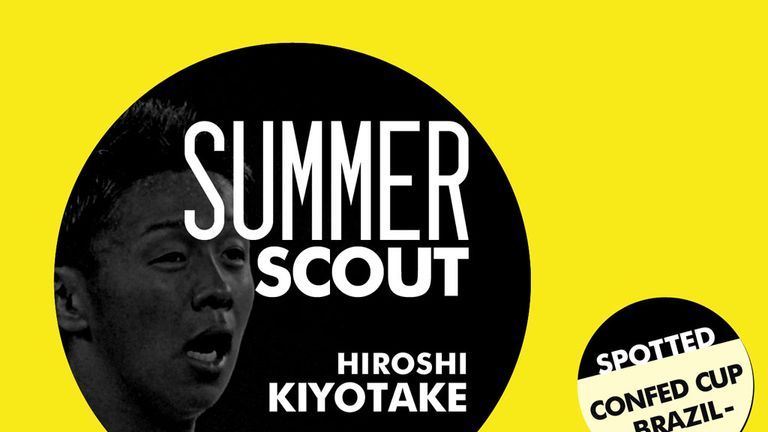 Our scout will report back and you can comment on what you think of their appraisal.
You can only nominate a player by emailing here, including the word 'Scout' in your subject line, and please check to make sure we have not already covered the player.
You can also now interact with the scout via his all-new Twitter feed! You can get in touch with him and interact here or just search for @skysportsscout
The latest player to be spotlighted is Japan's Hiroshi Kiyotake.
The scout reports...
Our second report from the Confederations Cup is a player of great interest in the shape of Japanese midfielder Hiroshi Kiyotake.
He played just once in Brazil, against the hosts as Japan went out in the group stages.
Kiyotake, though, has emerged as an interesting prospect after Premier League Aston Villa made a bid for his services.
Born in Oita, Kiyotake joined his first club Katiora FC at the age of 13, before two-years later joining the youth ranks of his local J-League side Oita Trinita.
At the age of 17 he made his senior debut and scored the equaliser in a 2-2 draw with Shimizu S-Pulse. Within months his was a first-team regular and has never looked back.
In 2010, Cerezo Osaka sold their star midfielder Shinji Kagawa to Borussia Dortmund and they immediately turned their attention to Kiyotake and took advantage of Oita's poor financial position to get him.
Kiyotake stepped into Kagawa's shoe very well and later that same season was called into Japan's national squad for the first time, making his debut against South Korea.
He was called into Japan's squad for the Olympics in 2012, but before they had begun - he was again following in the footspeps of Kagawa as he agreed a move to the Bundesliga with Nurnberg paying £1million for his signature.
His first season in Europe was a massive one for Kiyotake, scoring four goals and grabbing ten-assists - more than Mario Gotze.
It is little surprise that Kiyotake now finds himself linked with England. The comparison is an easy one, and it is a valid one - they are very similar in stature and technique.
Kiyotake has an outstanding football brain and he loves to play in the hole behind the forward line, where he can pick a pass or drive into space.
His goalscoring is also a big thing, he has an outstanding eye for goal and many feel he has everything in his armoury to be the complete attacking midfielder.
Clearly Paul Lambert thinks so as he looks to fend off larger clubs such as Chelsea to his signature.
The scout says...
Kiyotake is an brilliant prospect, and he has honed his skills in the right way - picking his moves carefully he now looks ready.
A move to the Premier League beckons, and although not a household name, he could be a real gem of a player for whoever gets him.
The Scout rating...
Shooting: 7 out of 10
Passing: 7 out of 10
Tackling: 6 out of 10
Heading: 5 out of 10
Pace: 7 out of 10
Vision: 8 out of 10
Current ability: 7 out of 10
Potential ability: 10 out of 10
OVERALL SCOUT RATING:57/80
Current value: £8million
Potential value: £18million
Your opinion...
You have read our opinion of Kiyotake - now we want your views. Have you seen Kiyotake in action? Do you agree with our assessment? Do you think he will make it?
Get in touch, either using the form below, email or the scout's Twitter feed - @skysportsscout