Muller's b-ball skills
Not content with being European champions, four Bayern Munich stars proved that they can also impress on the basketball court when they were brought together by bwin, official partner to both Bayern's football basketball clubs, in the latest Skill Series challenge
Last Updated: 17/12/13 2:47pm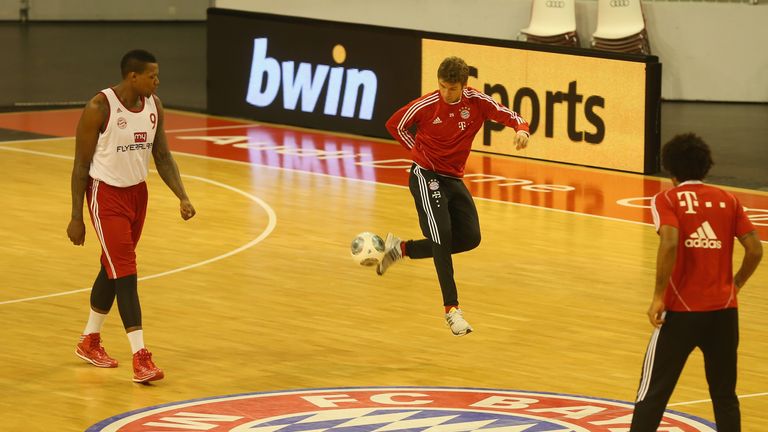 Starring alongside FC Bayern Munich Basketball giants Lucca Staiger, Deon Thompson and Bryce Taylor, footballers Javi Martinez, Thomas Muller, Dante and Rafinha competed in a series of basketball-meets-football challenges... and more than held their own!
It didn't start well though as both Dante and Rafinha failed with slam dunk attempts, even though the latter received a helping boost from Staiger. The basketball players then showed off their own devastating court skills, with Muller being left for dead by Thompson who then landed a huge dunk in the 3v3 challenge.
Muller made amends by finding 'nothing but net' in the Alley-Oop challenge. After a nice lay up from Martinez, the German international displayed his trademark aerial ability, using his head instead of hands to find the basket.
However, the real surprise of the video came in the slam dunk challenge. After a daunting demonstration from the FC Bayern b-ballers, the footballers revealed a secret weapon in the form of defensive midfielder Javi Martinez. The combative Spaniard had already impressed in the 3v3, with a superb jump shot when he completed a slick team move with a stunning dunk.
Having earned the applause of his teammates with his hand skills, the ex-Bilbao man then closed the show in style. After some tidy keep-ups from Rafinha, Martinez landed an exquisite backheeled shot from just inside the three point line before being mobbed by his celebrating teammates.
Bayern are the fourth club to take on bwin's 'Skills Series' which has already featured Real Madrid's Gareth Bale, Juventus' Carlos Tevez and Manchester United's Marouane Fellaini. The series encompasses a unique set of challenges that has taken some of Europe's best players outside of their comfort zones to show-off some extraordinary athletic and technical abilities.
Still to come in the series are challenges for Olympique de Marseille and RCA Anderlecht, subscribe to bwin YouTube channel to ensure that you see them first. For all the latest betting tips and news follow @bwin or visit www.facebook.com/bwin