Pirates & Politics
FC St Pauli has long enjoyed a cult following thanks to the club's conspicuously left-wing supporters and its location nearby the dubious charms of Hamburg's Reeperbahn. In his new book Pirates, Punks & Politics, Nick Davidson delves deeper into the world of a unique football club...
By Adam Bate
Last Updated: 04/03/14 9:10am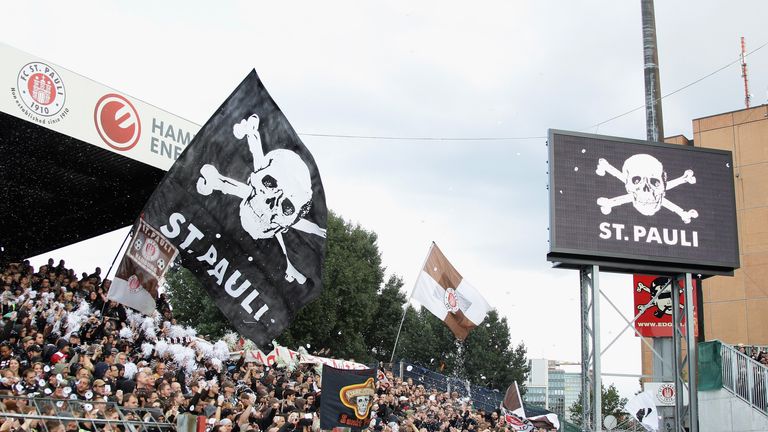 The legend of FC St Pauli is spreading. With its commitment to left-wing politics, the second-tier German club has become a symbol of counter-culture in a sport perceived to be in thrall to the money men. In the process, St Pauli has captured the imagination of football fans around the world. Now erstwhile Watford fan Nick Davidson tells the story of what it's like to become a Buccaneer...
Davidson's new book Pirates, Punks & Politics is the work of an Englishman who became disillusioned with the game in his own country and found a whole new world of fandom. "I was reading FourFourTwo shortly after the 2006 World Cup and there was an article about St Pauli in there," Davidson tells Sky Sports. "It was a fairly generic article about what they stood for and all that stuff. I started taking an interest in following them and there was a UK message-board forum so I just got into it from there. I planned a trip to go over there and once I'd been that was it really.
"When I went over there, I promised myself I wouldn't get too worked up by the results. I'd spent more than 20 years following Watford when my Saturday nights lived or died by the result. So with St Pauli I make a conscious effort. If you're going to travel 800 miles three or four times a season to watch the team, don't let yourself get down over the results. It had to be bigger than that and about the experience."
So what makes watching St Pauli so different? "It's a bit of a cliché but it is the fans," he explains. "The football is pretty average. They've had one season in the Bundesliga since I've been following them but got relegated pretty swiftly. It's second division football. But it's not about the football. As someone who grew up watching the game in the 1980s, it's almost like stepping back in time. It's a football we haven't seen in this country for a long time.
"The level of support and the passion from the terraces is what shines through. Just being part of the non-stop singing, the atmosphere just blew me away. It's the little things like being able to have a beer on the terrace and being able to stay around the ground afterwards. And then as I got more into it, there was the whole aspect of getting to know people and being able to meet up."
Tension
Of course, like a band that finds relative fame and fortune, there will always be those who like to remind people they were around for the debut album. The growth of the cult of St Pauli is not without its difficulties. "There is a tension there and there are people there who you speak to who'll tell you that it isn't as good as it was 20 years ago when they started following the club. I think that's inevitable as you always look back and think things were better in the perceived golden age.
"I can't compare it to the 1980s but since I've been going the ground has changed completely. Three out of the four stands have been completely rebuilt. If I'm honest, I didn't want that to happen. I loved the fact that when I first started going it was a run-down place with a lot of charm. The facilities were basic but that's what I liked. I was quite anti-development.
"But when you spoke to people there, actually they appreciated that the club needed it. They built a big stand down the one side with two tiers of executive boxes and some really expensive seats. They got a lot of stick for it but then they also built a new 10,000 standing terrace along the other side of the ground. They stuck to that commitment and kept the ticket prices at €12 so people appreciated that you do need those expensive seats to maintain the revenue."
Obviously, the risk with such changes is that the club cooks the golden goose and St Pauli's unique selling point is lost. After all, who wants to support the rebellious icon who sold out? "It's a balancing act and they've got to walk that tightrope between success on the field, being commercially viable and retaining what makes the club special," says Davidson.
"The club is in a difficult situation at the moment. In terms of merchandising and things, they probably generate the second biggest revenue in Germany behind Bayern Munich. So on one level they are massively commercial as a club itself. The skull and crossbones that everyone buys into has become very popular.
"However, the fans who go every week retain this identity of everything that's against modern football. They stand against those values but the club then makes a lot of money from that. So there are two things at work here. The club exist in the modern world and they obviously want to compete and get to the top division. But the supporters are still fighting against commercialism.
"Through the general meetings, the fans of St Pauli have quite a big say. The club wanted to give the stadium name a sponsor but the fans were able to say that they didn't want to do it. Almost every club in Germany has that right but the fans at St Pauli are particularly left wing and there are certain things they will stand up for even though they know the team won't be successful."
This is not just hot air either. When Susi's show bar - a strip club on the nearby Reeperbahn - installed a pole in one of the corporate boxes at the Millerntor Stadium, supporters proud of the club's strong female fan-base were horrified. The subsequent fall-out highlighted the awkward juxtaposition between the anything-goes liberal attitudes prevalent at St Pauli and the highly-principled left-wing sensibilities of supporters. "The club came in for a lot of stick about that and in my opinion quite rightly," says Davidson.
"If the values of your club are anti-sexist, anti-homophobic, anti-racist then having that going on in your executive boxes runs against your constitution. In the end, they didn't renew the contract but there are a lot of fans very angry that it happened in the first place. I think they see the bigger picture. They aren't thinking short term and looking for that instant fix. They're getting almost 30,000 in the second division and I don't think that would be any different if they dropped down to the third tier. That's one of the really good things about it."
Shades of grey
Of course, the shades of grey and internal tensions make for an interesting read. "Why I wanted to write the book is an interesting one because there's a bit of hypocrisy from me there," admits Davidson. "I got into it by reading an article about St Pauli and it's the stuff everyone knows. They go through the clichés about how it's on the Reeperbahn in the Red Light District, the terraces are full of punks and everyone's left wing.
"I wanted to do something that went deeper than that. But that was the thing that attracted me to the club - it was the politics and the make-up of the crowd that got me there in the first place. I just wanted to know more and go beyond the myth. Of course, the closer you get to it, the more complicated it becomes because you see these divisions not just between the club and the fans but between different supporter groups. Different sections have different ideas about the direction in which the club should go. It's more nuanced.
"But underpinning all that, I probably enjoy it more than ever. Back then I was someone from the outside looking in on it, but now I feel like I'm a part of something. It doesn't seem as perfect as when you just skim read about it but actually there's so much good stuff going on there that it's even better than the myth."
Helped by a noble gesture, Davidson's book has been embraced by St Pauli. "We're launching it over at the club itself on March 22nd. One of the nice things about it has been the response from Germany. I'm donating my royalties to a museum over there. They're trying to launch a fan-base museum. We won't sell that many copies as it's very niche but it's a token really to help with that.
"There are loads of German books on St Pauli and the history is really well covered but what they're interested in is that there are a bunch of foreign guys who travel over to watch the club. They like that side of it and it's selling quite well - they took 150 copies over the other week. It's a very niche book but if you're into football and something different then there's an interesting story in there."
To order a copy of Pirates, Punks & Politics by Nick Davidson direct from the publisher, Sportsbooks Ltd, click here