Bundesliga buzz
Two of Europe's most wanted young talents went head to head on Saturday night, as Arsenal target Josip Drmic of Nurnberg came up against Freiburg centre-back Matthias Ginter, linked to both the Gunners and Manchester United. Jon Holmes was there to watch the duel...
By Jon Holmes (jonboy79) in Freiburg
Last Updated: 07/04/14 12:13pm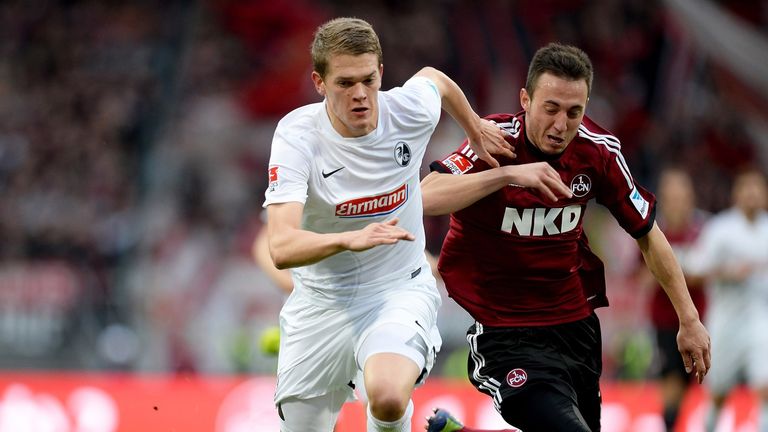 Lothar Matthaus was rightly acclaimed as a 'complete' footballer during his playing days but since hanging up his boots in 2001, the Germany legend has often stumbled.
The latest such incident occurred on Saturday, when Matthaus was working pitchside as a pundit for Sky Sport HD on their live coverage of the Bundesliga survival scrap between Freiburg and Nurnberg.
On show at the Dreisamstadion on a warm spring evening were several prized prospects interesting English clubs ahead of the summer transfer window, such as the home side's centre-back Matthias Ginter and the visitors' Swiss striker Josip Drmic.
Ginter, who turned 20 in January, was watched by Manchester United boss David Moyes in person whilst helping Freiburg keep a clean sheet at Hertha Berlin in late February, while Gunners chief scout Steve Rowley was in attendance three weeks later in a 4-1 victory at Eintracht Frankfurt.
However, it was the future of Drmic - the 21-year-old of Croatian descent who has been prolific in his first Bundesliga season since switching from FC Zurich last summer - that was being discussed by Matthaus before kick-off.
With 150 international caps plus FIFA World Player of the Year and Ballon d'Or trophies in his cabinet, Matthaus will always command respect, even if his coaching career - which has so far taken him to six different countries and includes the Hungary and Bulgaria jobs - is only really notable for dismissals, walk-outs, unpaid bills and bad feeling.
Two years ago, he became a figure of fun in his homeland when a six-part reality TV show called 'Lothar: Always On The Ball' showed him burning eggs at breakfast time for his underwear-model girlfriend. His growing bitterness at being passed up for Bundesliga vacancies has become something of a running joke in Germany and last October, he was even classified 'deceased' by a Munich court when he failed to respond to requests to pay alimony to his ex-wife.
It's no surprise to see striker-light Arsenal linked with Drmic - he's young, dynamic, down-to-earth and dedicated - but eyebrows were raised when Matthaus imparted some 'inside knowledge' to fellow pundit Jan Aage Fjortoft which suggested a deal to take the striker to the Emirates was as good as done...
My #sky colleague Lothar Matthäus just said on Sky: -Drmic's wife has been looking for an appartment in London. Drmic will be Arsenal-player

- Jan Aage Fjortoft (@JanAageFjortoft) March 29, 2014
When the man in question confidently roofed a first-half stoppage-time penalty to restore Nurnberg's lead in the match, you could almost imagine Frau Drmic authorising a downpayment on her preferred flat within commuting distance to London Colney. Except she wasn't - because she doesn't even exist. As Drmic himself confirmed when Matthaus' comments were put to him post-match: "What wife?! I'm not married."
Matthaus refused to be discredited, but was forced to backtrack somewhat (Fjortoft tweeted a follow-up to say the German's source was "sure" that a deal "could happen", while Sunday's edition of Die Welt delighted in mocking Matthaus once again). As for Drmic, he trotted out the line that "any boy dreams of playing for Arsenal" - but he might be more keen to sign for Borussia Dortmund and replace the Bayern-bound Robert Lewandowski.
Ginter was the Freiburg defender tasked with tracking Drmic for the majority of Saturday night's contest, and largely shackled the speedy Swiss in open play. The Nurnberg ace is adept at accelerating off the shoulder of his marker, and will look to drift wide right to steal a march. On one such occasion in the second half, Freiburg were briefly frustrated by the referee's failure to award them a penalty - and Drmic was released like a flash, with Ginter struggling to gain ground.
He looks set to star for Switzerland at the World Cup, he's got pace to burn, and his purple patch in front of goal in 2014 has got the likes of Matthaus in a spin. A bid of around £8million could be enough to land Drmic, and that sparks memories of Arsene Wenger's 2001 purchase of Francis 'fox in the box' Jeffers from Everton. That deal soon proved to be bad business but with Drmic also offering a wing option, having no obvious injury concerns and the fact fees for forwards are so inflated these days, a Swiss investment this summer would be shrewd.
A Ginter's tale
Another 21-year-old, Felix Klaus, settled the affair 3-2 in Freiburg's favour with a sensational 65th-minute strike. Christian Streich's side now sit five points above the drop zone and are in fine form going into the final six games of the season. Despite their defeat, Nurnberg will also fancy their chances of survival. On-loan Crystal Palace midfielder Jose Campana caught the eye along with former Arsenal right-back Martin Angha while in the first half at least, the main Nurnberg danger-man was former Middlesbrough 'mad dog' Emanuel Pogatetz, whose powerful header from a Hiroshi Kiyotake cross on a short corner routine gave the visitors an early lead. The Austrian also won the penalty from which Drmic made it goal number 17 for the season, but was shown a second yellow card in the closing stages when - having been pushed up front in the search for an equaliser - a stray elbow caught Ginter in the face.
That was one of the few moments in this match when the Freiburg defender was ruffled. However, weaknesses have been apparent in Ginter's game this season; he's been turned too easily by quick opponents and his hesitation has sometimes proved costly. In fairness to him, he has had several different centre-back partners over the course of the campaign and has also been moved into defensive midfield in roughly a third of Freiburg's fixtures. Against Nurnberg, he was alongside Pavel Krmas, the 34-year-old Czech, who glanced in the home side's first equaliser from a corner.
Ginter rarely gives away fouls (he has been booked just once all season) but would need to be more physical and aggressive in the Premier League. Like Drmic, there is perhaps more chance of him joining Dortmund (Ginter supported them as a boy) than United, particularly if Mats Hummels is also on the move this summer. But Ginter's pedigree and impressive passing range make him a highly attractive option - and his leadership qualities at such a young age suggest he is exactly the sort of character Moyes needs for his new breed.
That Freiburg feeling
Matthaus and Fjortoft looked to be in high spirits on Saturday, and so were the fans tightly packed onto the Nordtribune terraces which overlooked the Sky punditry position. Freiburg's Dreisamstadion has a genteel riverside setting in the shadow of the Black Forest but inside, the 24,000 crowd are boisterous and animated, creating a passionate atmosphere which compares more than favourably to larger Bundesliga stadiums.
The combination of cigarette smoke, beer runs and huge club flags in a home end that is fully netted in and also fenced makes for a matchday experience that will be alien to many English supporters, particularly the younger generation. In this country, we are edging closer to acceptable 'safe standing' solutions in the UK - Bristol City hope to install rail seating when Ashton Gate is redeveloped - but that is unlikely to bear much resemblance to the 'rough and tumble' feel of Freiburg's home end. In addition, the music and chants - from 'I Was Made For Lovin' You' by Kiss, to a reworking of Pat Boone's 60s hit 'Speedy Gonzales' and a rousing club anthem called 'SC Freiburg Vor!' - offer the perfect soundtrack.
The 14 euros ticket price (£11.50) is a steal, while return travel costs can come in at under £100 (flying from Manchester to EuroAirport at Basel, plus an hour-long bus connection to Freiburg city centre). Whether you're scouting out your club's transfer targets or simply keen to savour a less obvious Bundesliga battle, Germany's sunny south-west is certainly a destination to consider.