Glenn Hoddle
Football Expert & Columnist
Real Madrid v Bayern Munich: Glenn Hoddle says Spanish side now favourites
Glenn Hoddle says Pep Guardiola is trying too hard to evolve and has made Bayern Munich worse.
Last Updated: 24/04/14 7:58am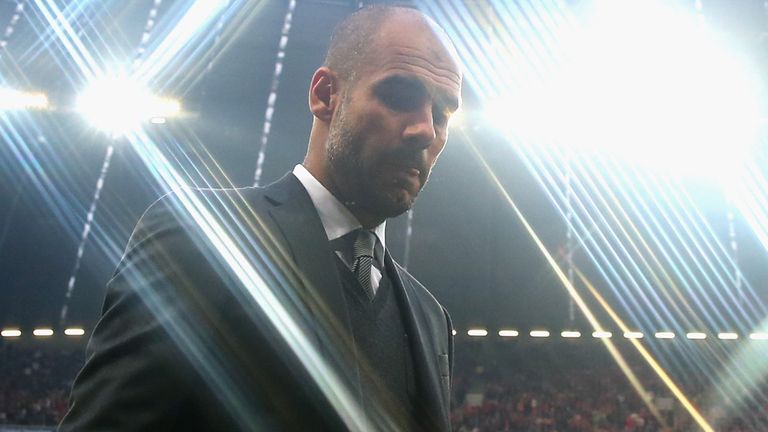 The Sky Sports pundit was speaking after watching the German champions lose 1-0 in the first leg of their Champions League semi-final against Real Madrid, a game in which they dominated possession but created few clear-cut chances.
Former Barcelona boss Guardiola took over from Jupp Heynckes in the summer and Hoddle believes he is trying to make too many changes to a team that won the Champions League, German league and German Cup last season.
"They were better last year than they are this year, " he told Sky Sports.
"He's trying to change things for change's sake. In the first half we were looking at where the full-backs were playing and they were playing like central midfielders.
"I cannot understand why you don't get the wingers wide and they come inside if the full-back goes or you get an overlap. There was one or two overlaps in their play. When they were flying at their best last year there was overlaps, underlaps and great movement. It's too slow. It's not tika-taka like he had at Barcelona.
"He has taken over from a manager who has won three trophies there and he did it fantastically well.
"At the end of the day he is finding the pressure that he's got to try and take it to another level and he doesn't. They've got great players, wonderful players, and I think he is trying to tinker with the system to come up with something new.
"He's playing Bastian Schweinsteiger in the wrong position on the half-turn. He can't play there. He's trying a bit too hard to make a change and evolve the game.
"Well, it's not working for me at the moment. Go back to getting the width in your game and they will open teams up."
Chances
Karim Benzema scored the only goal of the night in the Bernabeu, but Cristiano Ronaldo and Angel Di Maria missed gilt-edged chances to extend the advantage for Real Madrid ahead of Tuesday's return clash at the Allianz Arena.
And Hoddle, who was tipping Bayern Munich before the game, says the Spanish side are now in the driving seat to reach the final in Lisbon.
"They will be kicking themselves that they haven't gone over there with a 3-0 lead," he added.
"They have caught Bayern on a bad night. Let's face it, Bayern didn't play anywhere near to their capacity, certainly in the last third.
"Real had good chances and they've fallen to the right people - so I would say that Bayern will be absolutely delighted going home and thinking they've only lost it 1-0.
"It's half-time and they're still in this game and they've got the extra-time at home, if it goes to extra-time.
"Realistically, Madrid are still in this tie without any shadow of a doubt. You saw what they created not playing with the ball; they didn't have the ball all night!"