The Fantasy Football Club: Germany legend Lothar Matthaus picks a star-studded #One2Eleven
Fulham boss Felix Magath handed the No. 10 jersey with Oliver Kahn between the sticks
Last Updated: 11/05/14 1:37pm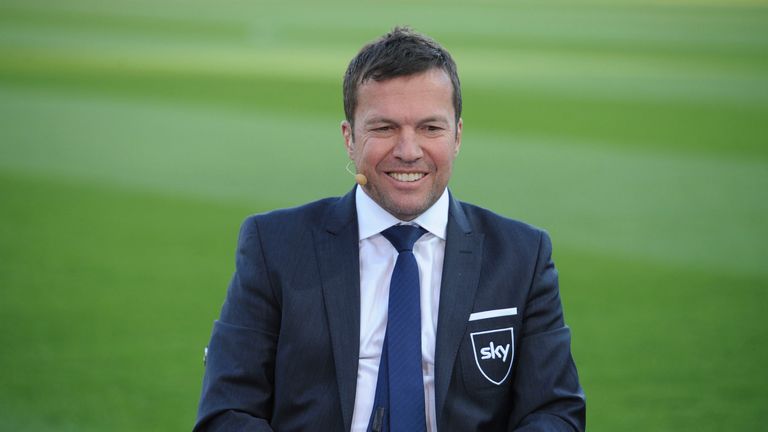 The footballing legend revealed the answer on The Fantasy Football Club by naming a dream team from the men he played with, and it was good news for Felix Magath.
Magath may still be hurting from Fulham's relegation to the Championship but will no doubt raise a smile after being handed the No. 10 spot in Matthaus' #One2Eleven.
Read on to hear why Lothar plumped for Felix, and to see who else made his side...
GK: Oliver Kahn
LOTHAR SAYS: With Bodo Illgner I became world champion in 1990, while I've also played with Jean-Marie Pfaff and other good 'keepers, but the best was Kahn. He trained like crazy and wasn't known as the best goalkeeper in the world for no reason. He was the second best player, behind Ronaldo, in the 2002 World Cup and a Champions League winner with Bayern Munich. You could rely on him 100%.
DEF: Giuseppe Bergomi; Jurgen Kohler, Karlheinz Forster; Andreas Brehme
LOTHAR SAYS: In 1982, when Italy played Germany in the final, Bergomi became the youngest player to win the World Cup. I played with him at Inter Milan and he was very tough but never unfair. Kohler became world champion with me in 1990 and was a defender you didn't like playing against, while next to him I would play Forster, a player who sadly finished his career early due to injury. On the left, I am picking Brehme, a man who played a decisive role in the 1990 World Cup Final by scoring the winning penalty. I not only had a wonderful time with him in the national team but also at Bayern and, in particular, Inter Milan.
DEF-MID: Paul Breitner; Matthias Sammer
LOTHAR SAYS: Both Breitner and Sammer pushed the game forward, are known around the world and would work well together. Breitner was a special but awkward guy who always gave his opinion and was very dominant, similar to Sammer, who led Germany to the European Championships in England in 1996. Sammer was also successful as a coach with Borussia Dortmund and epitomises the character of a winner. On the pitch, he was the one responsible for our success.
ATT-MID: Mehmet Scholl; Felix Magath; Karl-Heinz Rummenigge
LOTHAR SAYS: There's nobody I can think of other than Scholl, who could play central but also cut in from the right. He was very strong at running with the ball and he was so unpredictable because he had such good movement. I could have chosen Diego Maradona in the No. 10 position but I only played with him in charity games so I went with Magath. During the 1982 and 1986 World Cups he was an important player for Germany and also at his club, Hamburg, where he scored the winning goal in the 1983 Champions League final against Juventus. Rummenigge, meanwhile, was twice named European Footballer of the Year and was very dangerous with his speed and good finishing.
ST: Rudi Voller
LOTHAR SAYS: I need someone who scores and I thought about Jurgen Klinsmann but I went for Voller because I think he was a little stronger. He won the penalty in the World Cup Final in 1990 and is a football icon who is loved in Germany but also in Italy, especially in Rome.